Q&A: No Place Like Home for A Lot Like Birds

For Sacramento, CA-based post-hardcore band A Lot Like Birds, being traditional in any sense doesn't appear to be something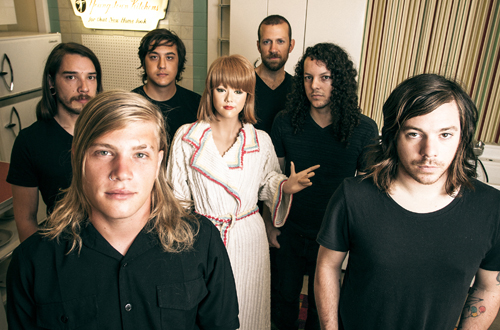 they're into.
Barely five years into their lifespan, the guys – Kurt Travis (vocals), Cory Lockwood (vocals), Michael Franzino (guitar), Ben Wiacek (guitar), Michael Littlefield (bass), and Joe Arrington (drums) – are already onto their third album, No Place, a piece of work that thematically explores the emotions of every room in a home.
At the moment, A Lot Like Birds are far away from their homes, as part of the travelling musical circus that is the Vans Warped Tour. Riffyou.com managed to catch up with Arrington to discuss surviving Warped, the latest album, home life, and hair-brained ideas.
RY: Firstly, how's Warped Tour treating you thus far? What types of memories have you already built up?
Joe: "Warped tour is a wicked experience. So far, we have had nothing but an amazing crowd response and the crew are the best people ever. It's hot, it's sweaty, it's punk rock as hell. Memories?  How about the memory of eating better than we do at home on this tour…"
RY: Many bands talk about how grueling of a tour this one can be. What survival tips have you been provided, or have you developed along the way?
Joe: "First, bring crew. There's a lot of money to be made on this tour and the opportunity should be put to good use. Having crew we can trust is paramount. Also, bring clothes that you don't mind getting dirty. This tour ruins clothing. Another thing that saved us was renting a bandwagon. Much smarter and safer than a van. If you're going to be a road warrior, do all of your shopping at Walmart and Target. Truck stops are torturously expensive."
RY: Congratulations on No Place! The album's been out for a fair chunk of time now – how would you say the reaction has been?
Joe: "Thank you! It was very self-indulgent. But properly, [we wanted] to share our indulgences with our listeners and friends. The reaction has been a sweeping motion of teary eyes, head-scratching, goose bumps, and approval."
RY: The concept of each room in the home carrying with it a different emotion is something that can feel relatable to many. How often do fans come up to you explaining how much they connect with these tracks? What do they say to you?
Joe: "The best part of this band is the eccentric nature in which our songs reach out to various people. The home represents so much of the human condition and our goal was to open that can for ourselves and our listeners. People say a wide array of things regarding the album at every show we play, all of it being intensely personal. This means we made the connection."
RY: Concept albums by nature are very ambitious in terms of content and the process it takes to build such content. Why did you opt to go this route?
Joe: "We are honestly unique dudes with hair-brained ideas. Not all hair-brained ideas work, but this one did."
RY: How intense was it to make this album?
Joe: "On a scale of one to 10, it was scary."
RY: Being on the road as much as you are, 'home' can obviously mean something totally different to you than somebody else. How do you make the road feel like home? Are you concerned that you may never be able to handle a calm, normal home life?
Joe: "I think any artist understands the sacrifices tailored to their craft early on…the serious ones, anyway. And most artists are prepared for the upheaval. A calm, normal life rarely kicks out any amount of intelligently furious passion. Conceptually, a home could be just about anything. And the grass is always greener…"
RY: "How often do you get home, and how comfortable/uncomfortable are you when you get there?
Joe: "Some of us have different scenarios than others in this band. But most of us see home about half of the year, give or take a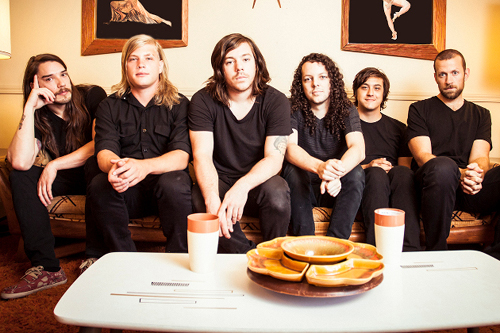 few weeks or months. I am very comfortable at home."
RY: You guys are still relatively young into your career and are still in the midst of growing as musicians. What steps do you as a band need to take to ensure that you not just maintain, but also expand your following?
Joe: "Play, play, and play. Write, write, and write. Tour, tour, and tour. We have several more albums under contract with our amazing family at Equal Vision. We're just getting warmed up! Artistically, we want to evolve. In every other way we want to stay sane. The music industry is over-saturated and everyone's attention spans are shot these days. So, do what you love and prepare for a succession of leaps of faith."
RY: Have you already begun thinking about the next album? If so, what kind of direction is the material taken?
Joe: "We have put a lot of thought into the next project we are to tackle. I can't reveal much, but as I stated before, we believe in musical evolution. We hope to expand our team and influences, and the result should be staggering. After all, we are the hardest to satisfy and we hold ourselves to our own standards. Is that a bandception?
-Adam Grant
Please be sure to follow us on Twitter @riffyou and at Facebook.com/riffyou.