Q&A: The Supersuckers Believe in Their Greatness

Eddie Spaghetti of The Supersuckers believes that when your band's slogan is "The Greatest Rock-N-Roll Band in the World,"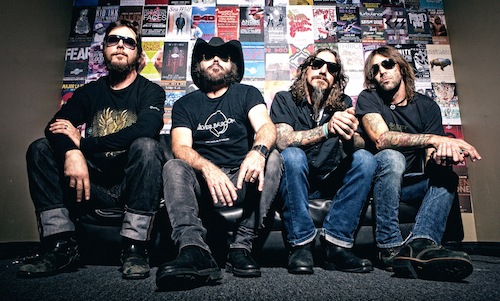 you damn well better prove that notion each and every time you can.
Since first forming in 1988, The Supersuckers have garnered a reputation for being one of rock n' roll's more under-appreciated bands, while at the same time touring and recording at a relentless enough of a pace to ensure that they're not forgotten about.
Earlier this year, Spaghetti (vocals, bass) and the band – Dan 'Thunder' Bolton (guitar, vocals), 'Metal' Marty Chandler (guitar, vocals), and 'Captain' Chris Von Streicher (drums) – released Get the Hell, a truly unforgettable rock n' roll juggernaut that is about as subtle as what Kanye West thinks of himself.
During a rare breather ahead of the band's Canadian tour (which starts October 22…full schedule below), Riffyou.com got on the line with Spaghetti to speak about surviving the road, golfing with Willie Nelson, being under-celebrated, and who he thinks is really the greatest rock n' roll band in the world.
RY: You recently returned from a European tour that consisted of 27 straight days of shows. At what point do you start counting the days?
Eddie: "We hit the wall on about show 14 or 15, but you have to keep pushing through. There's only one other option and that is to quit – but we've never done that. We've had longer tours, but never done that many shows without a day off. We tell our booking agent that we don't like days off, because they suck money. But, generally, the booking agent doesn't take it that literally," laughs.
RY: How do you ensure that you survive such long runs of touring?
Eddie: "You just have to pace yourself. You don't over-indulge in anything and keep hydrated – typical sports analogies I guess. It's a marathon, not a sprint."
RY: Having toured as much as you have, are you still interested in taking in your surroundings from city to city?
Eddie: "When you're in Europe, it's cool to see the streets, do a walk around, and see how they live over there. It's definitely something we try to appreciate. But in the US and Canada, it can be a grind – we've seen [both places] so many times. You have your distractions now like your phone, so the time passes quickly."
RY: It must be nice to have something like a smartphone on the road with you, compared to what touring life must've been like for you back in the day.
Eddie: "Oh yeah, when we first started touring, it was all maps and payphones – there weren't any cell phones. You were going off a map when you got into town and you're pulling over to advance shows on a payphone. Now you can do it all while on the road…it's kind of awesome!"
RY: Your latest album Get The Hell is a real solid rock n' roll album that you recorded at Willie Nelson's studio. What kind of impact did that environment have on the album?
Eddie: "It had an impact on the recording. The songs were already written for a while, but it was just a matter of [determining] the attack. It was super cool to be back in that studio and re-visit the feeling we had in the '90s when we recorded there."
RY: How close are you with Willie?
Eddie: "He gives me a call on my birthday sometimes. We keep in loose contact, just like I would with any other friend. It's one of those relationships that is very special and I'm lucky to have."
RY: Does he often provide you with any musical advice or tips?
Eddie: "Nah, really the only advice he likes to give is how to hit a golf ball," laughs. "He plays a lot of golf. He once drew me a diagram on how he likes to hit a golf ball. I still have it."
RY: You use 'The World's Greatest Rock-N-Roll Band in the World" as the slogan for The Supersuckers. I'd imagine that you have to live up to that idea every night.
Eddie: "Oh yeah, you don't say something like that and not try to live up to it every night. We definitely feel that we're as good as many bands have ever been. The fact that we're not as popular as some of these other bands is endlessly frustrating. But, you can't focus on that side of it – you just have to be as good as you can be. It's not like sports where there are actual numbers that dictate how good you are. Music is an art form, so it's more subjective. You can just feel that what you do is as good as anybody."
RY: At what point did you stop worrying about popularity? Or do you still think about it time to time?
Eddie: "Well, we still think about it and wish that we were a lot more popular than we are. It'd be nice to have more people appreciate what we do. But, our legacy will still be there when we're gone and I think it'll speak volumes."
RY: What are you hoping that legacy says?
Eddie: "That we were awesome and way under-appreciated when we were around."
RY: Well, the same could be said for the Ramones – they weren't really appreciated until they were dead and gone.
Eddie: "Exactly. I hope that doesn't happen to us, but I'm prepared for that too."
RY: So, I'd assume at this point you're really just focusing on what you want to put out into the world and just seeing where that lands.
Eddie: "I feel like I've written so many great songs. Just keeping up the quality is the goal now. I feel like I know what makes for a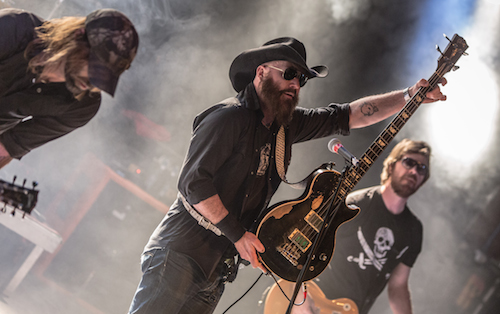 great song and I know how to write them. I want to keep up the quality and make sure that we don't put out garbage in our later years. I feel like we're just getting the hang of it now…and we've been around for 25 years."
RY: Does saying that number weird you out at all?
Eddie: "It weirds me out to no end. I don't feel like I'm as old as I am. I still feel like I'm a 22-year-old kid that's just getting started. To look back and see that we've been around for as long as we have is mind boggling."
RY: Now, earlier we spoke about you guys being the greatest rock n' roll band in the world. Who would be #2?
Eddie: "Really, if I had to break it down, AC/DC is probably the greatest rock n' roll band of all time. But, I feel like we're right up there. As I've said before, we're not as popular as we should be, considering how good we've been."
RY: Not a lot of bands will say that they think they should've been more popular. Have people looked at you funny for offering such an opinion?
Eddie: "Saying that can come across as overly bitter or me being upset. But, I'm not bitter or upset. I'm really happy with what we've got and the fact that we still have work is pretty great. Having that type of jealousy can really eat you up and make you rotten inside – we try to stay away from that. Everything good thing I've gotten has come through this band. I met my wife and made a family…it's brought me so many good things. It'd be crazy not to appreciate it."
­-Adam Grant
Tour Dates:
October 22 – Vancouver, BC @ Wise Hall
October 23 – Kelowna, BC @ Doc Willoughby's
October 24 – Edmonton, AB @ Pawn Shop
October 25 – Calgary, AB @ Dickens
October 26 – Calgary, AB @ Dickens
October 27 – Regina, SK @ The Exchange
October 28 – Winnipeg, MB @ The Pyramid
October 31 – Oshawa, ON @ The Atria
November 1 – Hamilton, ON @ This Ain't Hollywood
November 2 – Toronto, ON @ Horseshoe Tavern
November 3 – Peterborough, ON @ The Red Dog
November 5 – London, ON @ Call The Office
November 6 – Ottawa, ON @ Mavericks
November 7 – Montreal, QC – Cabaret World
November 8 – Quebec City, QC – Le Cercle
November 10 – Fredericton, NB – Capital Complex

Please be sure to follow us on Twitter @riffyou and at Facebook.com/riffyou.