Review: Lady Gaga Gave The Grammys the Bowie it Needed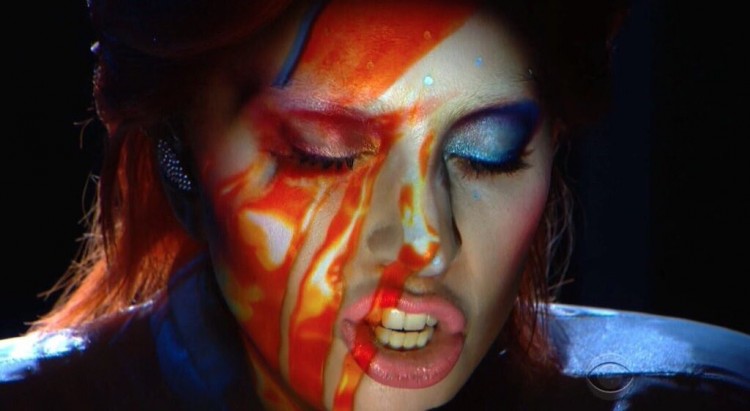 When it was announced that Lady Gaga had been selected to pay tribute to David Bowie during the 58th Grammy Awards, you could feel the opinion of the late legend's fan base swinging up and down with the consistency of a teeter totter.
A lot of it came down to worthiness and trust. Those disinterested by Gaga's dance-pop slant, often-odd appearance, or vocal attributes expected the "Bad Romance" belter to be too weird to execute the eclectic songbook of Bowie. Others, more interested in seeing someone with similar chameleon-like creative tendencies as Bowie, thought this was an incredibly astute selection.
After hours of a rather tepid Grammy Awards broadcast (with the exception of Kendrick Lamar's fierce stage dominance) that featured a whining Adele and a paint-by-numbers hosting job by LL Cool J, Lady Gaga emerged and turned the arena into colourful theatre.
With the assistance of some spellbinding technology and a perplexingly incredible robotic keyboard, Gaga got as fiery as her orange, Bowie-esque hairdo and strutted her way through a 10-song medley that began astoundingly with "Space Oddity," before fittingly coming to a close with "Heroes."
Throughout, Gaga's vocal range jumped around with the control of an Olympic gymnast securing a gold medal. She commanded the stage, took her best go at Bowie's physical mannerisms and wasn't afraid to let her freak flag fly. There was nothing conservative about this, which was refreshing considering how watered down The Grammy Awards have become over the years. And let's face it, it wouldn't have been surprising had the Grammy folks forced Gaga to step back, dress in black and just sing.
I'm never one for that whole "this is what he would've wanted" notion, but when watching Gaga last night, it was tough to not sit there and imagine the gigantic grin such a performance would've put on Bowie's face. If he was going to be an award show's object of affection, this is how he would've wanted it to go down.
As much praise as Gaga will receive in the days to come regarding her reimagining of Bowie's work, she will still be largely criticized and crucified by certain Bowie devotees who go the extra mile to poke holes in her performance. But that's cool, it comes with the territory – this type of musical exhibit was supposed to be polarizing. If it wasn't, Gaga wouldn't have done her job.
And, if Bowie hadn't attempted to be as polarizing as he was throughout his decades-long career, he may not have become as celebrated and revered.
In case you missed Gaga's Bowie tribute, you can watch it below.
-Adam Grant
David Bowie Tribute Set List:
"Space Oddity"
"Changes"
"Ziggy Stardust"
"Suffragette City"
"Rebel Rebel"
"Fashion"
"Fame"
"Under Pressure"
"Let's Dance"
"Heroes"