Riff Review: Edgefest 2 Races Through Toronto

Toronto traffic was even worse than usual this weekend what with the Honda Indy shutting down the Lakeshore between BC and Strachan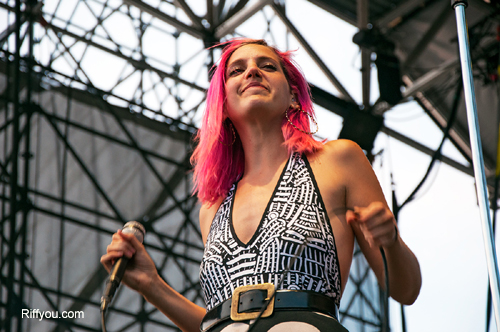 Avenues. And with 102.1 The Edge's second iteration of this summer's Edgefest concert series taking place on Ontario Place grounds at TD Echo Beach, it's likely that more than a few hearts sank at the prospect of fighting the inevitable congestion to get to and from the festival.
But perfect weather, a serene setting, fabulous food trucks, and most importantly, a great lineup, made for a truly enjoyable Friday evening.
Edgefest 2 kicked off at 5pm with James Black (of Finger Eleven fame) opening the Emerging Artists stage, providing a nice soundtrack as concertgoers began to file in. Black's set was followed up with half-hour performances by the always impressive Dear Rouge (you just have to hear lead singer Danielle McTaggart live…amazing) and Toronto's own Wildlife.
As Wildlife wrapped (and perhaps even a few moments before), things got started over on the Main Stage as Bear Hands came on, playing a 35-minute set that culminated with their hit "Giants."
Then things started to get going as Said the Whale took to the stage, opening with the popular "Mother," before keeping the crowd pumped with "I Love You" and their latest single, "Willow." STW's set was followed by New York's MS MR, whose visually and audibly pleasing (albeit shorter than expected) performance included a pretty impressive cover of the Arctic Monkeys hit "Do I Wanna Know."
Then came the moment everyone was waiting for as USS took the stage, opening with "Yo Hello Hooray." The rest of the night belonged to the Toronto-area duo who delivered an energetic 75-minute performance that featured all the hits: "Yin Yang," "This is the Best," "Damini," "NA/OK," "Laces Out," and included their signature mid-set 'stretch' to the sounds of George Michael's "Careless Whisper." Torontonians love these guys and with good reason – you are pretty much guaranteed a good time at a USS show and the lads certainly did not disappoint this time around.
2014's third and final Edgefest takes place August 16, also at TD Echo Beach. Something of a throwback for their longtime listeners, headliners include Our Lady Peace, Sloan, Eve 6 and I Mother Earth.
-Review by: Ramona Zacharias
-Photo by: Elizabeth Gyde (view her photo spread of the show right here.)

Please be sure to follow us on Twitter @riffyou and at Facebook.com/riffyou.