Watch "I Am Machine Gun," the New Video from Morning Glory

Not all music videos are shot upon a soundstage or after all appropriate permits and licenses have been signed off on. Instead of going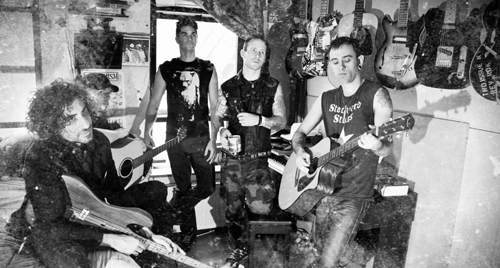 through such motions, NYC punk collective (and friends of Riffyou.com) Morning Glory went the renegade route for the filming of their latest clip, "I Am Machine Gun."
There may not or may not have been a craft services truck on the scene, but one thing is for certain: the authorities were.
In an article previously published by Big Cheese Magazine, Morning Glory frontman Ezra Kire discussed the video's concept, as well as the, let's say, complications that went along with it.
"The concept was mine. It was loosely inspired by John Perkins' book Confessions of an Economic Hit Man as well as the many C&D tattoos we've seen over the years," explained Kire. "But it was all [director] Chris' idea to break in to an abandoned psych ward in New Jersey and run around in a bunch of black ops gear & ski masks with replica machine guns. Which was all brilliant fun until the cops started circling the building.
He continued: "We had to pack up all our gear and the irony was not lost on us that we had somehow become a chase scene within a chase scene, a real life projection of the video itself. Unfortunately, while we did manage to evade them we missed our last shot. This was true renegade art with a positive message for what I'll always see as our international generation."
"I Am Machine Gun" is off of the band's excellent new album, War Psalms. It's available through Fat Wreck Chords.
Here's the video!
Please be sure to follow us on Twitter @riffyou and at Facebook.com/riffyou.