Thanks to Fans, Alexisonfire May Soon Own Their Music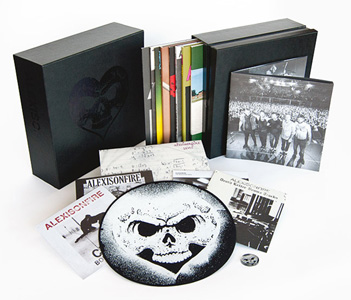 Alexisonfire may no longer be a recording and touring entity, but they are very much still in the hearts, minds and pocketbooks of their dedicated fan base. Prior to the holidays, it was announced that the rockers would release a limited edition vinyl box set that featured all of the group's studio albums, plus "long out-of-print" EPs. On Christmas Day at 12:01am, the package went on sale, online, and each of the 1,000 units made available were nabbed within 30 minutes. Considering the sticker price was $250, such a sellout is a damn impressive feat.
A few days later upon the official Alexisonfire Facebook page, band vocalist George Pettit responded to the sales with great surprise and appreciativeness, while stating that discussions are now in place for a second pressing of the box set, as well as individual vinyl pressings of each album featured.
"Selling 1,000 box sets, at the lofty price of $250, on a predominantly dead format, is no easy task," explained Pettit.
"It's a god damn Christmas miracle. I really don't want you to think that a gesture like that has gone unnoticed or unappreciated by the AOF camp. We love you all and are very grateful you would go to such great lengths for us."
Within the very gracious post, Pettit also revealed the real significance of these sales.
Turns out, over a year ago Alexisonfire were informed that their label Distort Records was interested in selling off the rights to the band's music. Before a transaction with a random third-party buyer could come to fruition, Joel Carriere, Alexisonfire's manager and the owner of Dine Alone Records, stepped up and took ownership of the music. Pettit explains that it has been agreed that once Alexisonfire is able to secure enough funds to pay back what Carriere spent, he'll give the masters back to the band.
"This is the first real release since [Carriere made this purchase] and the box set sale has gone a long way towards giving us back ownership of our music. It's a Christmas gift that you probably didn't even know you were giving us," offered Pettit. "So me and the band would like to send a very sincere and heartfelt thank you to everyone who purchased an Alexisonfire vinyl box set."
It hasn't yet been determined when the new pressings will be available, but stay tuned to Riffyou.com for updates.
Oh, and continue to support your bands. As you can tell with this instance, being a good fan can help a band actually own and distribute their art on their own terms.
-Adam Grant