Alexisonfire Releasing Big Vinyl Box Set on Christmas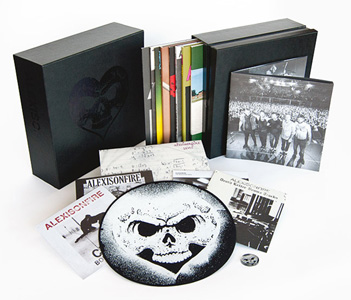 Alexisonfire, in partnership with Dine Alone Records and New Damage, will be releasing their official vinyl box set on December 25 at 12:01 a.m. EST. Only 1,000 copies will be up for grabs, and fans can snatch theirs through AOF's official website (www.theonlybandever.com) for $250.
Included in the package is each Alexisonfire studio release, as well as "long out-of-print" EPs pressed upon high-quality vinyl. Also here is a photo booklet curated by photographer Dustin Rabin, which will feature images from the band's final shows in Toronto and Hamilton, ON, in December 2012. It's noted that "special custom-shipping packaging" will protect the box set as it ships to the buyer's place.
Here's an itemized list of what'll come in the box:
Alexisonfire – 2×12″
Completely re-mastered and cut at 45 rpm on 180g double black vinyl for the first time ever
Watch Out! – 2×12″
Mastered at 45 rpm on 180g double black vinyl for the first time ever
Crisis – 2×12″
Mastered at 45rpm on 180g double black vinyl for the first time ever
Old Crows / Young Cardinals – 2×12″
Long out-of-print and re-pressed on 180g double black vinyl
The Switcheroo Series – 12"
Long out-of-print and originally released as a picture disc; re-pressed on black vinyl with full artwork for the first time ever
Death Letter – 12″
First time available on vinyl; pressed on 180g black vinyl
Dogs Blood – 12″
Long out-of-print and re-pressed on 180g black vinyl
Math Sheets Demo – 10″
Long out-of-print and originally released as a Record Store Day exclusive; re-pressed on black vinyl
Aussie Tour – 7″
Long out-of-print and originally released as a tour exclusive; re-pressed on black vinyl
Insulation Tapes – 7″
Long out-of-print and originally released as a tour exclusive; re-pressed on black vinyl
Crisis (Bonus Tracks) – 7″
Long out-of-print and originally released as a tour exclusive; re-pressed on black vinyl
Death Letter (Bonus Tracks) – 7″
First time on vinyl; features two additional tracks never before heard and to be disclosed as a 'Holiday Surprise' upon digital download of box set
28 Page Photo Book
Curated by photographer Dustin Rabin; includes photos from the AOF's final Canadian shows
Vinyl Slipmat & 45 Adaptor
Digital Download
Download link delivered with purchase that includes high quality MP3s of the box set contents