The Gaslight Anthem Releasing "Get Hurt" on August 12

New Jersey rockers The Gaslight Anthem have announced that the follow-up to 2012's magnificent Handwritten is called Get Hurt, and that it'll hit shelves on August 12.
Fans can pre-order the album today in a number of formats: standard 12-track CD or digital download ($7.98-$11.98); deluxe 15-song CD or digital download ($9.98-$15.98); 180-gram vinyl ($22.98); and an exclusive double picture disc featuring 15 tracks ($35.98). The first 500 of the latter to be ordered will come with a 12×24 autographed Gaslight Anthem poster.
The band has also released a quick video preview of the album, showcasing an excerpt of the track "Stay Vicious." You can watch that below, as well as see the Get Hurt tracklisting and album cover.
-Adam Grant
Get Hurt tracklisting:
1. "Stay Vicious"
2. "1,000 Years"
3. "Get Hurt"
4. "Stray Paper"
5. "Helter Skeleton"
6. "Underneath The Ground"
7. "Rollin' And Tumblin'"
8. "Red Violins"
9. "Selected Poems"
10. "Ain't That A Shame"
11. "Break Your Heart"
12. "Dark Places"
13.  "Sweet Morphine" (Deluxe version only)
14. "Mama's Boys" (Deluxe version only)
15. "Halloween" (Deluxe version only)
16.  "Have Mercy" (Bonus – iTunes ONLY)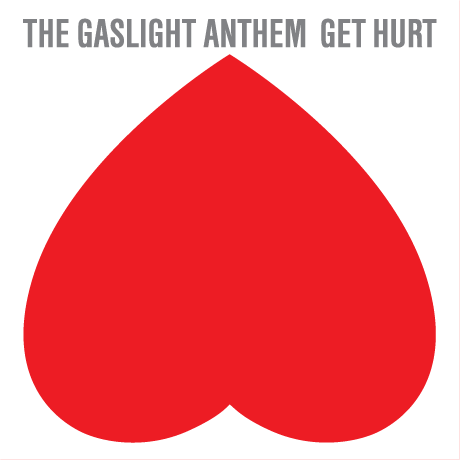 Please be sure to follow us on Twitter @riffyou and at Facebook.com/riffyou.