The Milk Carton Kids to Embark on Sizeable Spring Tour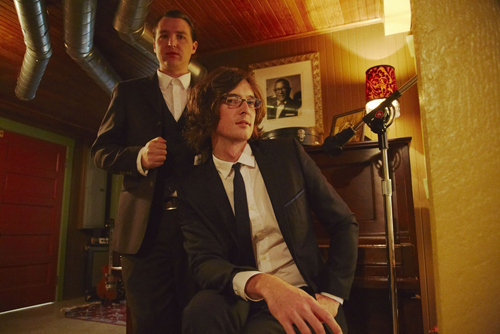 Los Angeles modern folk duo The Milk Carton Kids will take to the road in the spring for a sizeable tour in support of their 2013 Anti- Records release, The Ash & Clay.
Ahead of the more than two month tour that'll tackle Canada and the U.S., the band – Joey Ryan and Kenneth Pattengale – will be featured in a pair of PBS television events set to air this week. On November 22, The Milk Carton Kids will be featured in the network's documentary, Nashville 2.0: The Rise of Americana.
Secondly, the duo can be seen in ACL Presents: Americana Music Festival 2013, as they perform at the legendary Ryman Auditorium in Nashville. This special will air in the ACL time slot on PBS throughout the week, beginning November 22.
Here are the dates for the band's spring jaunt:
4/14 – Nashville, TN – Belcourt Theater
4/15 – St. Louis, MO – Sheldon Ballroom
4/16 – Memphis, TN – Buckman Performing Arts Center
4/17 – Birmingham, AL – TBD
4/18 – Atlanta, GA – The Buckhead Theatre
4/19 – Asheville, NC – Grey Eagle
4/21 – Vienna, VA – The Barns at Wolf Trap
4/22 – Philadelphia, PA – World Cafe Live
4/24 – Brownfield, ME – Stone Mountain Arts Center
4/30 – Boston, MA – Brighton Music Hall
5/1 – Burlington, VT – Higher Ground
5/2 – Montreal, QC – Corona Theatre
5/3 – Toronto, ON – The Great Hall
5/5 – Cleveland, OH – Beachland Ballroom
5/6 – Ann Arbor, MI – The Ark
5/7 – Grand Rapids, MI – Ladies Literary Club
5/10 – Stoughton, WI – Stoughton Opera House
5/11 – Minneapolis, MN – Dakota Jazz Club
5/12 – Winnipeg, MB – TBD
5/14 – Calgary, AB – Festival Hall
5/15 – Edmonton, AB – McDougall United Church
5/29 – Houston, TX – Mucky Duck
5/30 – Austin, TX – Stateside Theater
5/31 – Dallas, TX – Poor David's Pub
6/1 – Oklahoma City, OK – Blue Door
6/3 – Denver, CO – Bluebird Theater
6/5 – Salt Lake City, UT – The State Room
6/6 – Boise, ID – Neurolux
6/11 – Seattle, WA – Neptune Theatre
6/12 – Vancouver, BC – St. James Hall
6/14 – Portland, OR – Aladdin Theater
6/16 – Napa, CA – City Winery
6/17 – Santa Cruz, CA – Kuumbwa Jazz
6/18 – San Francisco, CA – Great American Music Hall
6/19 – Santa Barbara, CA – TBD
6/21 – Los Angeles, CA – Japan America Theater
6/22 – Solana Beach, CA – Belly Up
6/23 – Phoenix, AZ – Musical Instrument Museum