Riff Rant: Would You Let Arcade Fire Tell You What to Wear?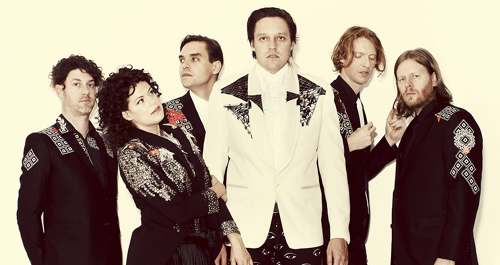 Last week, Arcade Fire announced their highly anticipated North American tour in support of Reflektor. However, it's been discovered via Ticketmaster that a dress code has been put into place for the shows.
In the "Please Note" section of the ticket purchase page, fans are told "Night of the Show: Please wear formal attire or costume." That's right, in addition to a person faithfully supporting their band by spending hard-earned money on a ticket, travel to the show, parking, as well as over-priced arena food and beer, the attendee also has to dress as if en route to a wedding or a Halloween party.
Then, once the arena is packed with a sea of over-dressed devotees, the temperature is bound to rise. Formal attire, at least for men, is very warm. And, can you imagine those poor women attempting to maneuver arena stairs in heels and a gown? Things could get messy.
Now, there isn't any indication at this point what will happen to those who rail against the dress code request. I doubt that Arcade Fire would incite a full-blown backlash and not allow someone in who instead opted for jeans and a Flaming Lips t-shirt. Some people just don't want to, or feel like they should be required to dress up for a rock show – it's supposed to be a time when ties, dress shoes and elegance can be abandoned for a sweaty, laryngitis-provoking, fist-pumping evening that's not restricted by an outfit too nice to damage.
That all said, what if Arcade Fire is serious about this? Is it possible that the band will have staff members at all the entrances hanging out beside clothing racks with the orders to pounce upon those who opted for a crop-top instead of something Couture? Will fans be forced to wear an uncomfortable mask or something lined with feathers if they'd rather be forced into a costume instead of formal attire?
I understand that Arcade Fire instituted similar requests at numerous Reflektor promotional events, but that appeared as more of a clever marketing ploy than anything else. If they are serious about attempting to get thousands upon thousands of people a night to adhere to such a request, there's a chance that some may abandon the tour due to the belief that they find it egotistical, if not a bit pretentious, for a band to put this policy in place.
Arcade Fire may be attempting to get cute here, but they could also lose part of a fan base that believed their favourite band was all about individuality as opposed to conformity.
I'll likely wear a hoodie.
-Adam Grant
Editor-In-Chief, RiffYou.com