Third Man Records Issuing Vinyl & Turntable for Kids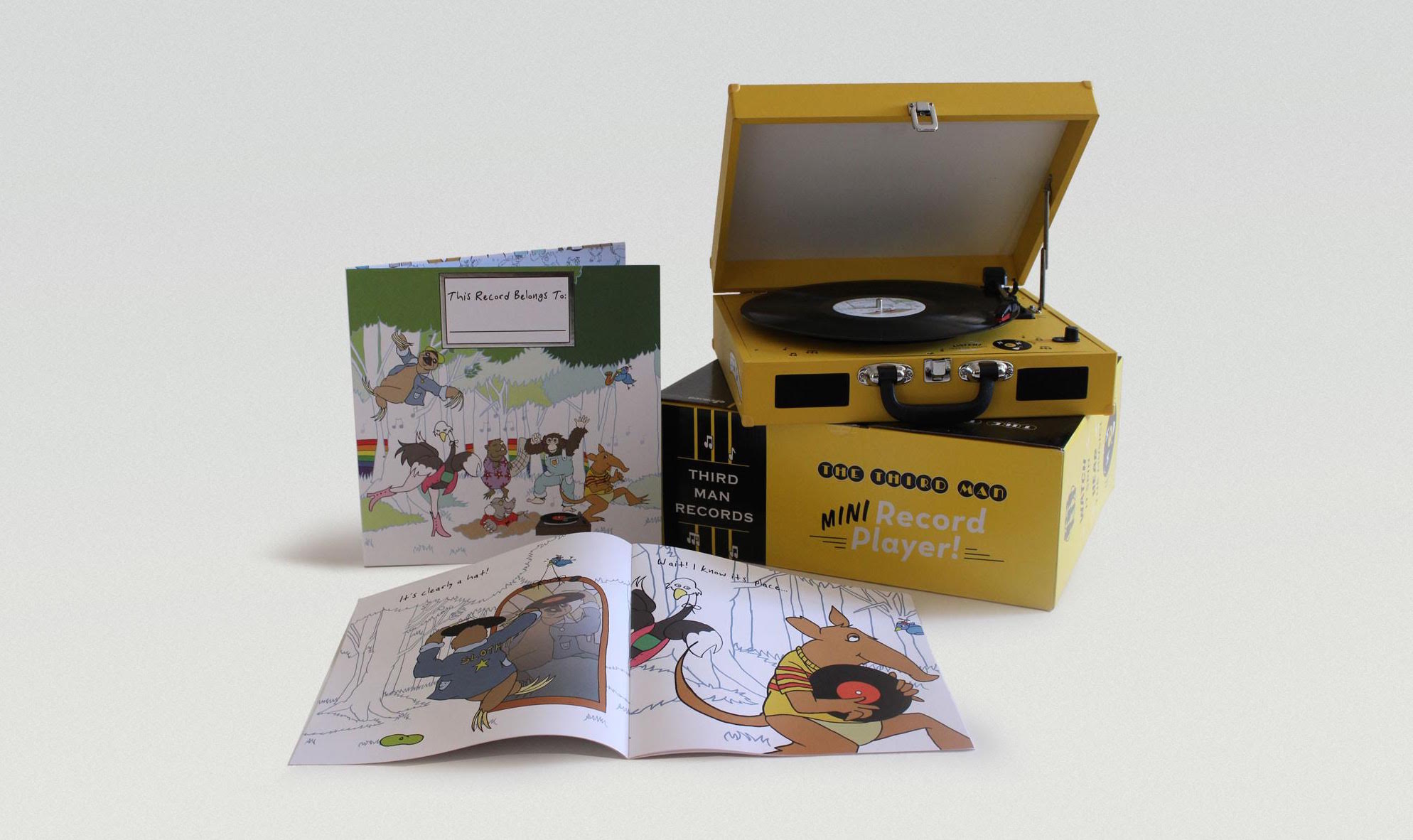 Jack White's Third Man Records and Light in the Attic have joined forces to bring vinyl appreciation to youngsters through the release of a special kids album, turntable and an accompanying storybook that features "five forest pals [that] discover the beauty of vinyl records."
The This Record Belongs to _________ album has music from the likes of Jerry Garcia, Carole King, Woody Guthrie, Harry Nilsson, The Pointer Sister, Kermit the Frog and more. In a press release, Third Man Records explained: "This record, compiled and sequenced by DJ and friend with the most trustworthy set of ears Zach Cowie, is dear to our hearts here at Third Man, as this collection of songs (previously passed around as a gift between friends) was the soundtrack of the first year or life for many TMR offspring. These kiddos now all have undeniably excellent taste in tunes. Trust us."
The three-speed, suitcase-styled turntable, has built-in speakers, a USB port to convert vinyl audio into digital files, plus an automatic return tone arm. It also comes with a t-shirt and sticker featuring Third Man Records' mascot, Manny.
This Record Belongs to _________ bundles are available to pre-order now for $95.
Tracklisting:
1. Shel Silverstein – "Invitation"
2. Van Dyke Parks – "Occapella"
3. Carole King – "One Was Johnny"
4. Harry Nilsson – "The Town"
5. Harry Nilsson – "Me And My Arrow"
6. The Pointer Sisters – "Pinball Number Count"
7. Woody Guthrie – "Dance Around"
8. Jerry Garcia & David Grisman – "Jenny Jenkins"
9. Roger Miller – "Oo-De-Lally"
10. Bobby Bare – "Daddy What If"
11. Ella Jenkins – "Pretty Trees Around The World"
12. Nina Simone – "You Can Sing A Rainbow"
13. Vashti Bunyan – "Diamond Day"
14. Donovan – "The Mandolin Man And His Secret"
15. Miss Abrams & The Strawberry Point 4th Grade Class – "Running In The Garden"
16. Kermit The Frog – "Rainbow Connection"
Please be sure to follow us on Twitter @riffyou and at Facebook.com/riffyou.