Watch Fat Mike of NOFX Boot a Stage-Invader

During NOFX's show at the Enmore Theatre in Sydney, Australia on Wednesday night, an enthusiastic stage-invader wasn't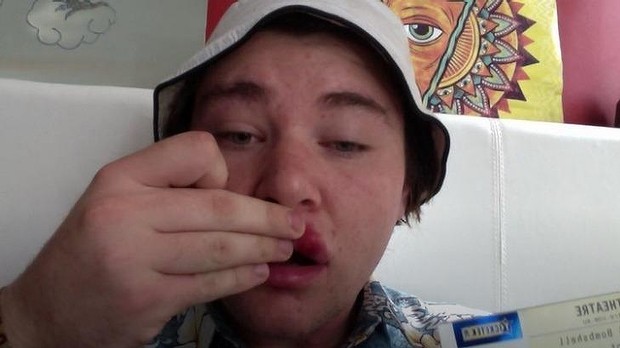 received well by frontman "Fat Mike" Burkett.
The fan, who we now know as Alex (pictured here), ran up onto the stage and whipped his arm around Burkett, triggering the singer to smack him down to the ground, then boot him in the face. Security soon intervened and escorted Alex from the stage.
Later on Twitter, Alex tried to calmly quiet any uproar there might have been, initially tweeting, "Calm down guys, it didn't even hurt."
He later followed that up with: "‪@FatMike_of_NOFX‪ thanks for the KO mike, didn't hurt too much. Soz for creepin up on you like, punk shows are a bit different down here."
To Burkett's credit, he offered Alex an apology and to buy him a beer at Friday's show.
Tweeted Burkett: "I'm sorry too Alex, I was in terrible pain all night. When you grabbed me by the neck I defensively reacted… offensively ‪@alexanderpeterq
He continued: "Alex, if you go to the show on friday I'll buy you a beer. Just don't throw it at me alright?"
It's recently been announced that NOFX's 1994 classic, Punk in Drublic, will be reissued on vinyl later this month through Epitaph. Meanwhile, the official soundtrack for Backstage Passport is due in December through Fat Wreck Chords.
-Adam Grant
Please be sure to follow us on Twitter @riffyou and at Facebook.com/riffyou.