Watch U2 & Friends Rock the (RED) Stage

Last night at Times Square the Bono-less U2 embarked upon a surprise concert for a surprise World AIDS Day (RED) concert,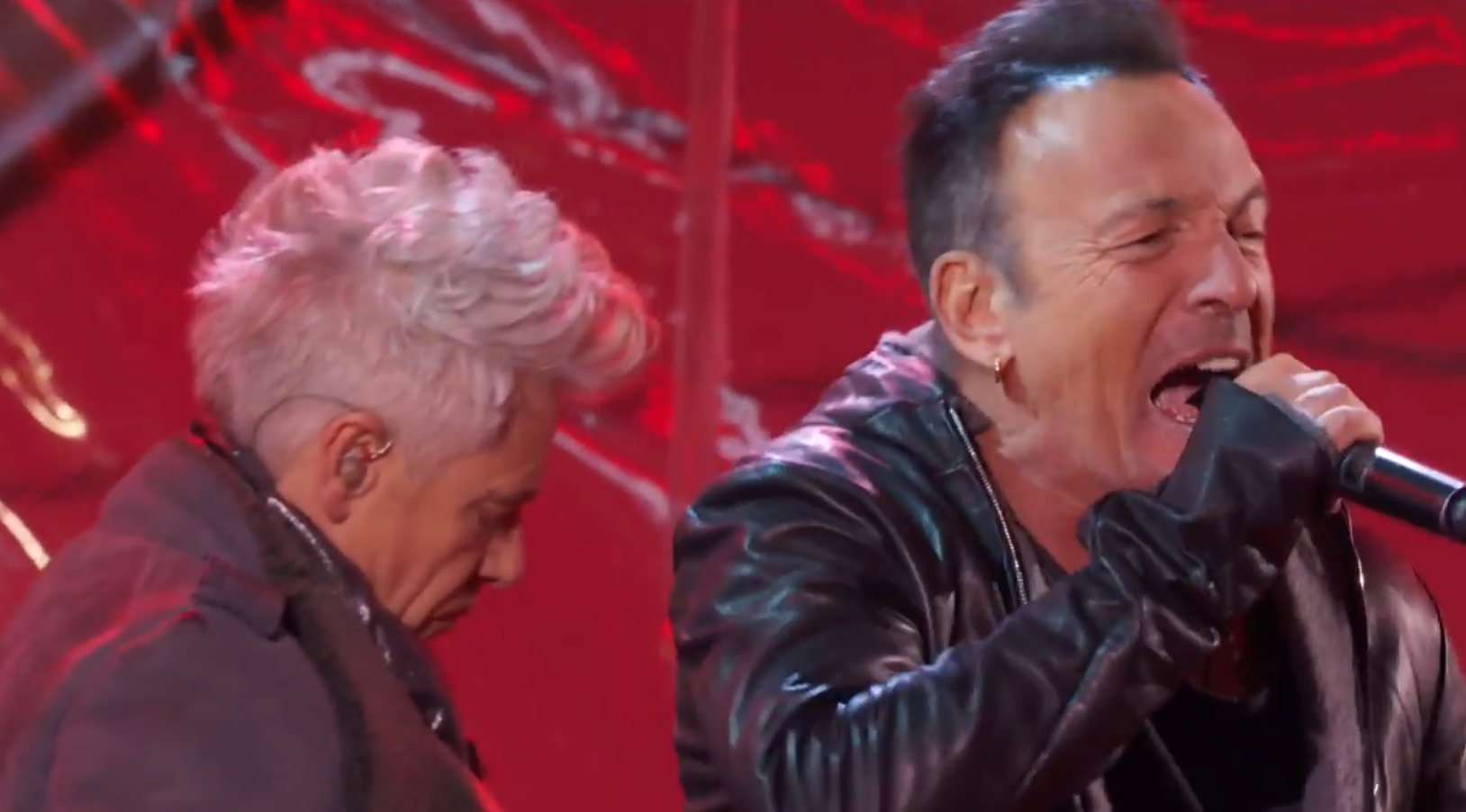 with the help of friends Bruce Springsteen, Chris Martin (Coldplay), Kanye West, and Carrie Underwood.
Billed as U2 Minus 1, Martin was the first to join The Edge, Adam Clayton, and Larry Mullen Jr. on stage for highly respectable renditions of "Beautiful Day" and "With or Without You." Wearing a 'SUBSTITU2' t-shirt during his performance, Martin didn't try to out Bono the absent Bono, but instead put a fresh spin on the songs without bastardizing their classic nature.
As for Springsteen, it appeared as if he raided Bono's wardrobe case for the occasion, wearing a super-tight leather hoodie that could barely be zipped up a quarter of the way. The Boss belted out "Where the Streets Have No Name" and "I Still Haven't Found What I'm Looking For," with a vocal intensity that made his throat appear as if it could've exploded at any moment. Of course he couldn't hit the high notes, but goddamn he pushed the words hard and looked to love every second of this performance.
Kanye, as I am sure you've heard by now, had a couple Kanye-like diva moments during a medley that consisted of "Jesus Walks," "Black Skinhead," "Stronger," and "Touch the Sky." But, Kim Kardashian's bulbous butt didn't make an appearance, so that's a win.
In case you missed the broadcast last night, you can watch the entire concert right here:
Please be sure to follow us on Twitter @riffyou and at Facebook.com/riffyou.