Alberta Politician Backs Away from NIN Shirts

While Trent Reznor is busy helping Apple Music off the ground, it appears that he may not have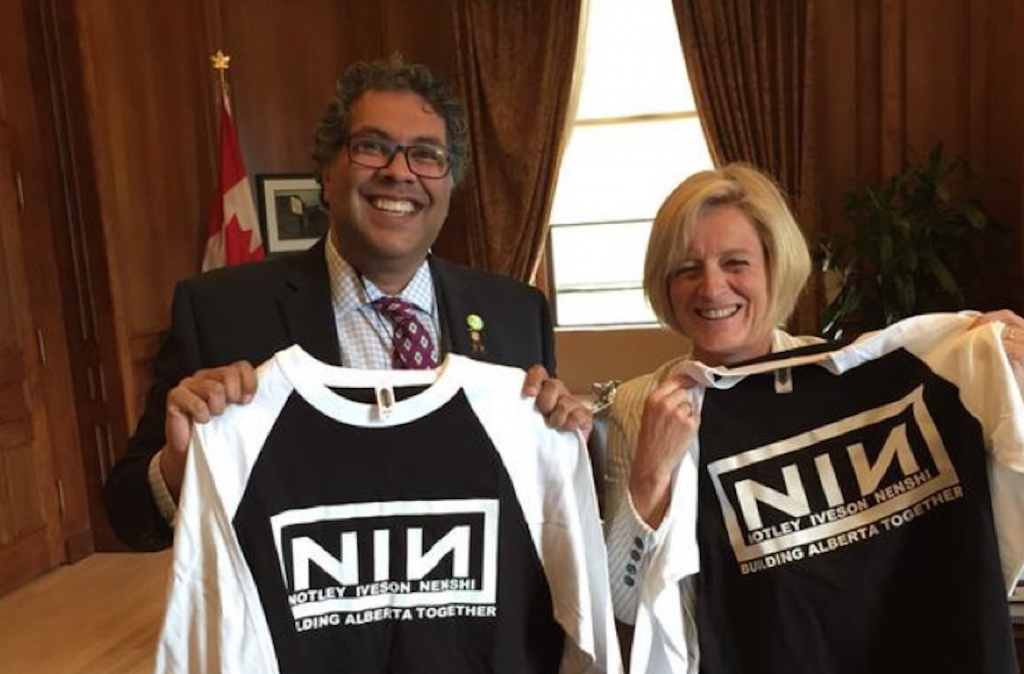 been too busy to notice that his Nine Inch Nails (NIN) logo was recently featured shirts made for politicians in Alberta, Canada.
Late last month, the province's Premier Rachel Notley, along with city Mayors Don Iveson (Edmonton) and Naheed Nenshi (Calgary), created t-shirts that read "Notley Iveson Nenshi: Building Alberta Together." The goal was to show the public how unified the trio of politicians are.
While these shirts may have been created with good fun in mind, Mayor Iverson suggested on Monday during an interview with Edmonton AM that Notley, Nenshi and himself "got advice that there were some concerns about the trademark and essentially to cease and desist." He also used the word "infringement" when the subject came up.
Iveson – who is not in the infamous photo – was later asked by the interviewer if he possesses one the shirts. After a laugh, Iveson responded, "On the advice of my attorney, I can't comment."
CBC reports that Mayor Nenshi's office is unaware of any "legal ramifications" and that there was no intent to mass-produce the shirts in question.
It remains unclear if Reznor actually pursued this manner legally, or if someone close to the politicians offered some rock-solid advice.
Please be sure to follow us on Twitter @riffyou and at Facebook.com/riffyou.