Anti-Flag Taking "American Spring" through America

As you should know by now, Anti-Flag will release "American Spring" on May 26 through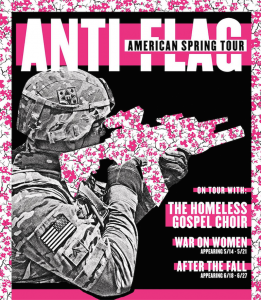 Spinefarm Records. To help get the message across of what bassist Chris #2 told Riffyou.com is an "angry" and "less than hopeful" album, the veteran punk rockers are taking "American Spring" through the US of A in May and June.
Thus far, 17-dates have been confirmed through May and June, including a stop at Punk Rock Bowling on May 23 in Las Vegas, Nevada.
Tickets for all May shows are available now, while June tickets go on sale Friday, April 10.
"I feel like American Spring sits somewhere between The Terror State and For Blood and Empire, in being the sound that you've come to expect from Anti-Flag. But, also us proving that even after 20+ years, we're far better than we were when we started," offered Chris #2 with a laugh during a conversation with Riffyou.com back in January.
He continued: "It's an angry record. It's written at a time where we feel let down and that an opportunity was missed. We're going to make sure that we don't roll over in a bed of apathy."
Tour Dates:
5/14 – Newport, KY – South Gate House
5/15 – St. Louis, MO – Fubar
5/17 – Kansas City, MO – The Record Bar
5/18 – Des Moines, IA – Wooly's
5/19 – Omaha, NE – The Slowdown
5/20 – Ft. Collins, CO – Aggie Theatre
5/21 – Denver, CO – The Marquis Theater
5/23 – Las Vegas, NV – Punk Rock Bowling
6/18 – Syracuse, NY – Lost Horizon
6/19 – Providence, RI – SIMON'S 677
6/20 – S Burlington, VT – Higher Ground
6/21 – Portland, ME – Port City Music Hall
6/23 – Buffalo, NY – The Waiting Room
6/24 – Toledo, OH – Frankies
6/25 – Columbus, OH – The Basement
6/26 – Grand Rapids, MI – The Intersection
6/27 – Erie, PA – Basement Transmissions