Band of the Year: Eagles of Death Metal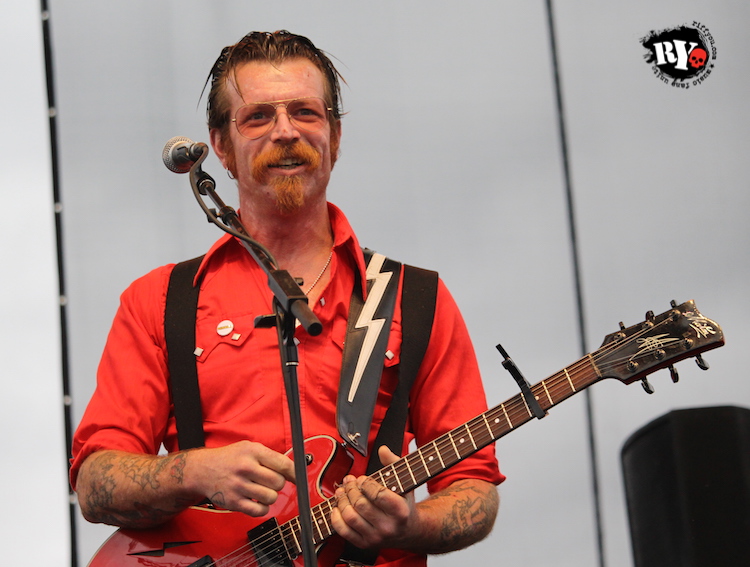 Before Paris, there was Toronto. Before The Bataclan, there was Downsview Park. Before the terror attack on November 13, there was an epic rainstorm on September 19.
On the first day of Riot Fest Toronto, everyone knew the weather would turn – we just didn't know when. By mid-afternoon, we had our answer and the first major performance cancelled: GWAR. The winds and rain ravaged the band's gear so much, it was deemed unsafe for the costumed rockers to play.
In limbo was Eagles of Death Metal. Slated to play on a different stage shortly thereafter, it was unclear if they would. Stages were soaked, the sky still looked iffy and a lengthy delay was presumably going to wreak havoc on the day's schedule.
As the weather gradually got acceptable, Riot Fest confirmed that all set times would remain as scheduled. Unfortunately, if that were to happen, Eagles of Death Metal would be that band who'd get the short end of the stick.
Standing in the photo pit directly in front of the stage, I watched the Eagles of Death Metal crew work feverishly to make its setup acceptable. Lots of towels and lots of running back and forth from amp to amp was going on: the clock was ticking.
As one amp issue stretched out, Eagles of Death Metal leader Jesse Hughes waved off the roadie and got ready to preach to the soaked, cold and in need of rock n' roll crowd. From his imaginary pulpit, Hughes and his fire-red shirt testified that nor the weather, nor the man, would stop his band from playing.
Like an auctioneer, Hughes built up the enthusiasm of onlookers to a contagious level. Everyone was a believer. Everyone was ready to flip off Mother Nature and get on with the rock. And, that is what happened – for four songs. Four songs of pure energy, not at all diminished or sulky because that's all Eagles of Death Metal had time to play. As the band waved goodbye, I and thousands of others, felt as if these gracious fellas had saved the day.
Later that day, I spoke with Hughes backstage. Perhaps one of the most outgoing, honest, funny and personable musicians you can ever meet, he owned up to amplifying the showmanship while onstage, admitting that Eagles of Death Metal were never on the verge of not playing that day – be it due to organizers or weather.
And thank goodness for that, because Eagles of Death Metal galvanized thousands in an instant.
Less than two months later, an Eagles of Death Metal concert in Paris was the focal point of a coordinated terrorist attack. In all, 89 people in the room lost their lives on a night where they simply wanted to rock.
My heart sank. For the victims, for Hughes, for the band, for humanity and for music. This was never supposed to happen. But unfortunately, the world we live in has a constantly changing narrative.
For a short time, Eagles of Death Metal remained relatively quiet, as the first sprawling statement didn't emerge from the band until November 18. Plans were put aside for the time being, but there was a commitment to not let the bad guys win. Hughes and company would return.
On December 7, that's exactly what happened as Eagles of Death Metal were asked by U2 to return to Paris and share a stage with them. Together the bands would cover Patti Smith's "People Have the Power." U2 then exited so that Hughes and the guys could close out the night with "I Love You All the Time," a song that has prompted the wonderful Play it Forward charity initiative.
Rightfully so, it was confirmed short thereafter that Eagles of Death Metal would return to Europe in 2016 to complete the tour they weren't allowed to, thanks to terrorism. On February 16, the band will play the Olympia Theatre in Paris.
Eagles of Death Metal is Riffyou.com's Band of the Year. Not out of sympathy (although we do have it for them), rather they get this title for continually championing what rock n' roll should be about: bringing people together, giving them a good time and by not allowing assholes or terrible circumstances to ruin it for everybody.
The Riot Fest rainstorm was a far more trivial event for Eagles of Death Metal than what the band endured in Paris. Yet, two major parallels can be drawn: both situations proved to those paying attention that Eagles of Death Metal are a band of the people and for the people. And when times get tough, the band will have your back and not leave you in the lurch.
Ultimately, Eagles of Death Metal are us, but with cooler jobs and a bigger voice capable of promoting change. Let us follow their lead with dignity, perspective and dancing shoes.
Click here to read our feature interview with Jesse Hughes of Eagles of Death Metal.
-Adam Grant