Bloody Christmas! Slayer Re-Releasing 10 Albums on Vinyl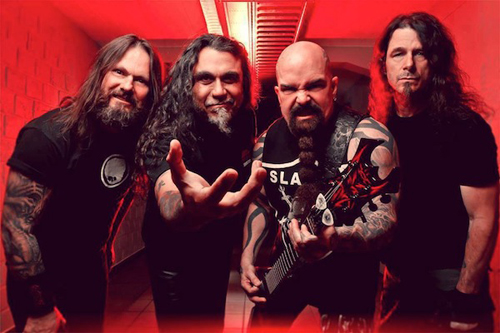 Nothing says Christmas time like the news that Slayer will be putting out 10 of its cheerful, happy-go-lucky albums on vinyl two weeks ahead of the gift-giving occasion.
Slayer has confirmed that American Recordings will reissue all nine of their studio records – Reign in Blood (1986), South of Heaven (1988), Seasons in The Abyss (1990), Divine Intervention (1994), Undisputed Attitude (1996), Diabolus in Musica (1998), God Hates Us All (2001), Christ Illusion (2006), World Painted Blood (2009), and the band's double-live album, Decade of Aggression: Live (1991).
The albums, which will all be available individually as of December 10, have been re-mastered from the original analog flat master tapes and have been pressed on 180-gram audiophile vinyl. Each will also feature its original album artwork, plus reproductions of the original 12×12 inner sleeves.
When the albums are first released in the U.S., 500 unmarked copies will be pressed on 180-gram blood red coloured vinyl and randomly inserted and sold in stores. There will also be a limited number of rare test pressings of each title that'll be given away.