Interview: Poor Young Things Keeping it in House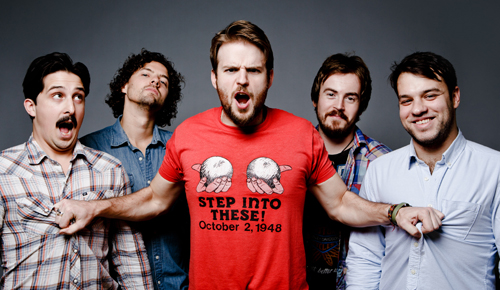 When one thinks about rock n' roll hotbeds, Thunder Bay, ON, doesn't generally come to mind. That's not a slight against the region, but in comparison to markets like Toronto, the original home base of energetic rock act Poor Young Things isn't equal.
Going to high school in Thunder Bay is what brought the band – Matt Fratpietro (vocals, guitar), guitarists Michael Kondakow and Dave Grant, Scott Burke (bass), and Konrad Commisso (drums) – together in the first place. But, Toronto was where Poor Young Things needed to reside in order to make an impact.
"Toronto is the mecca for Canadian bands and Canadian music," agrees Fratpietro after screening RiffYou.com's initial call thinking that it was the credit card company calling to hassle him yet again.
About two-and-a-half years ago, the guys made the big relocation. They found a home in the Toronto region and turned its basement into a rehearsal space. It was time to get to get down to business.
With Toronto being filled with musicians and live shows on a nightly basis, this reality forced Poor Young Things to get to work.
"The competition level goes way up. It definitely made us step our game up and it pushed us to get better," Fratpietro explains. "I don't remember having a conversation where we thought we were going to get buried out here. We always thought that we weren't afraid to grow and adapt."
The honing of one's craft, not to mention a ton of touring, wound up working for Poor Young Things, as 2013 saw the release of their debut album The Head. The Heart. The End. (on Bumstead Productions). It is a bombastic rock record in which Fratpietro's "road rasp" vocals blast through shining guitars and a steady rhythm.
If that wasn't enough, 2013 was also when the band took home the SiriusXM Emerging Artist of the Year honour and a cool $5,000 to put toward their debts.
As it sits now, four out of the five guys in Poor Young Things still share a home, which is a benefit that can't be understated.
"In our situation, the business and the personal are one big ball of fun times, [but] we all get along great. No one has any clashing personalities," notes Fratpietro. "Since we're under the same roof, we can go down to the basement and flesh out song ideas really quickly. You don't have to wait and drive to your jam space two hours away."
-Adam Grant