The Sheepdogs Get Charitable with Grey Cup T-Shirt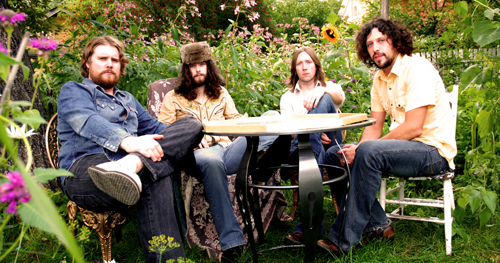 The Canadian Football League's Grey Cup championship game is happening on Sunday in Saskatchewan between the hometown Roughriders and Hamilton Ti-Cats. As part of the festivities, Saskatoon's most well-known rockers, The Sheepdogs, will make their presence known through a number of performances and a special charitable endeavour.
The Sheepdogs have entered into a charitable co-venture with the Saskatchewan Roughriders by putting forth a limited edition t-shirt that'll feature the band's name incorporated within the team's logo and colours.
Available in sizes small to double-XL, the shirts are being sold for $30 apiece with all profits being donated to The Children's Hospital Foundation of Saskatchewan. They can be purchased online right now.
For those attending the Grey Cup festivities, shirts can be picked up on Saturday, November 23 when The Sheepdogs perform at the Riderville Party at TCU Place in Saskatoon, as well as the following day when the band takes the stage at Regina's Pre-Game Party at Evraz Place.