Springsteen is the Subject of a Rutgers Theology Class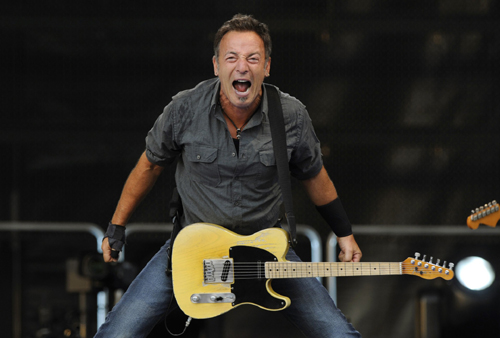 New Brunswick, NJ-based Rutgers University has confirmed that it'll be offering freshmen a seminar that looks into the theology of Bruce Springsteen's music. According to the school, the class will focus on all of The Boss' music, from his debut offering Greetings From Ashbury Park, N.J., all the way through to 2012's Wrecking Ball.
Rutgers professor, and admitted long-time Springsteen fan Azzan Yadin-Israel, will lead the course. In an interview with Rutgers News, Yadin-Israel explains the most prominent theological philosophies that he has analyzed in Springsteen music, as well as which biblical stories the rocker's lyrics link to.
"Interestingly, Springsteen refers more often to the stories of the Hebrew Bible (the Old Testament) than the New Testament. On a literary level, Springsteen often recasts biblical figures and stories into the American landscape," says Yadin-Israel.
He continues: "The narrator of "Adam Raised a Cain" describes his strained relationship with his father through the prism of the biblical story of the first father and son; Apocalyptic storms accompany a boy's tortured transition into manhood in "The Promised Land," and the first responders of 9/11 rise up to "someplace higher" in the flames, much as Elijah the prophet ascended in a chariot of fire ("Into the Fire"). Theologically, I would say the most dominant motifs are redemption – crossing the desert and entering the Promised Land – and the sanctity of the everyday. Springsteen tries to drag the power of religious symbols that are usually relegated to some transcendent reality into our lived world. In his later albums he also writes very openly about faith."
When asked what he hopes students will take away from this course, Yadin-Israel says that he would like them to be able to gain appreciation for "a particular way of thinking about texts, an attentive engagement of an author's work, and an understanding of the broader contexts – political, literary, theological, etc. – that inform a work."