Burly Calling VIII Q&A: Wasted Potential

Leading up to Burlington, Ontario's Burly Calling VIII independent music festival, Riffyou.com will be catching up with some of this year's participants to discuss why you should be in their crowd, thoughts on the festival, as well as the ideal place to go when drunk or hungover after a show.
Today, here's our Q&A with Danny Kidd of hardcore punk collective, Wasted Potential. Catch his band play Friday, December 5 at Boston Manor (8pm). Click here to view the full festival schedule.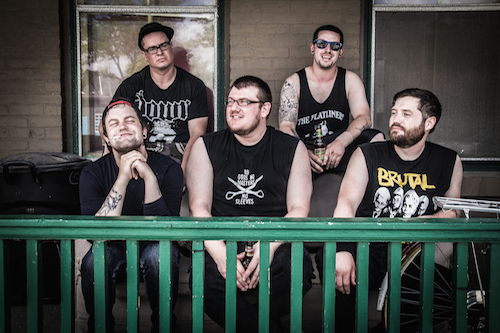 RY: Apart from your Burly Calling showcase, what else is your band up to?
Danny: "As far as shows go were playing St. Catherines on Boxing Day for the Indoorshoes Adopted Friends Vol.01 release show with The Dirty Nil and Waterbodies. We've got a New Year's Eve gig at Call The Office in London, which has potential to give us all alcohol poisoning. If we survive that, the future is so far unwritten until Pouzza 5 in Montreal this coming May. We've got a couple split 7" releases in the works as well. So we're up to literally nothing."
RY: For those attending Burly Calling, tell them why they should come and see your band. State your case!
Danny: "Because we try to be good people and we hope that if you don't see that, you could offer up some constructive criticisms like 'fuck off' or 'I didn't know people got that strange looking.' This exchange can only happen at Burly Calling."
RY: If this is your first Burly Calling show, what do you hope happens? (If it's not, what do you remember about your first Burly Calling gig?)
Danny: "This is our first Burly Calling! I feel like we already got everything we could've hoped with the bill we're on. It is filled with bands we all love."
RY: Who do you want to see at Burly Calling this year, and why?
Danny: "Teenage head. I was fortunate enough to see them with Frankie Venom…and theIR first record was a huge influence on me. I didn't really know anyone in this band before I joined, and one of the first friend making moments for me was finding that record in Nick's collection and drunkenly singing along in his basement. So we'll do it again in a bar!"
RY: How much sleep do you anticipate having during Burly Calling weekend?
Danny: "We actually got ourselves a hotel room, which is a first," laughs. "So, we will be in a lap of luxury, tucked away under blankets like half drunk human-sized kittens. I plan on sleeping for at least my normal 18 hrs."
RY: What is the best venue you've played (Burlington or otherwise) and why?
Danny: "Izakaya in Toronto is my favorite place to play. It reminds me of the rooms you'd find in like Legions and Church basements when you're too young to play in bars. It's crowded and sweaty, the sound's not great, and most of the bands are on the floor – it's perfect. You can also eat sushi before, during, or after sets. That's a bonus."
RY: If drunk and/or hungover after a gig, where is your go-to spot?
Danny: "My couch, so that I can watch Dawson's Creek and eat a large bag of Doritos myself."
RY: Of course, there are many independent music festivals out there. What do you think separates Burly Calling from the rest?
Danny: "We've yet to experience Burly Calling firsthand, so this may be answered best after the fact. One thing that I think separates Burly Calling from the majority is the emphasis on local bands. From what I can see, there aren't many bands that aren't within two hours of Burlington or Hamilton. This is cool, because there's always been a strong musical community in Burlington, and it's cool to see a festival highlight that. They got a good little thing going on there."
Please be sure to follow us on Twitter @riffyou and at Facebook.com/riffyou.