Getting to Know: Kentucky Rock act, Four Skulls

In today's Getting to Know, we meet Four Skulls, a group of Kentucky rockers that opted to abandon cover bands to make their own impression. If you are in an up and coming band that would like to partake in a Getting to Know feature, contact [email protected] to receive the questionnaire and instructions. Thanks!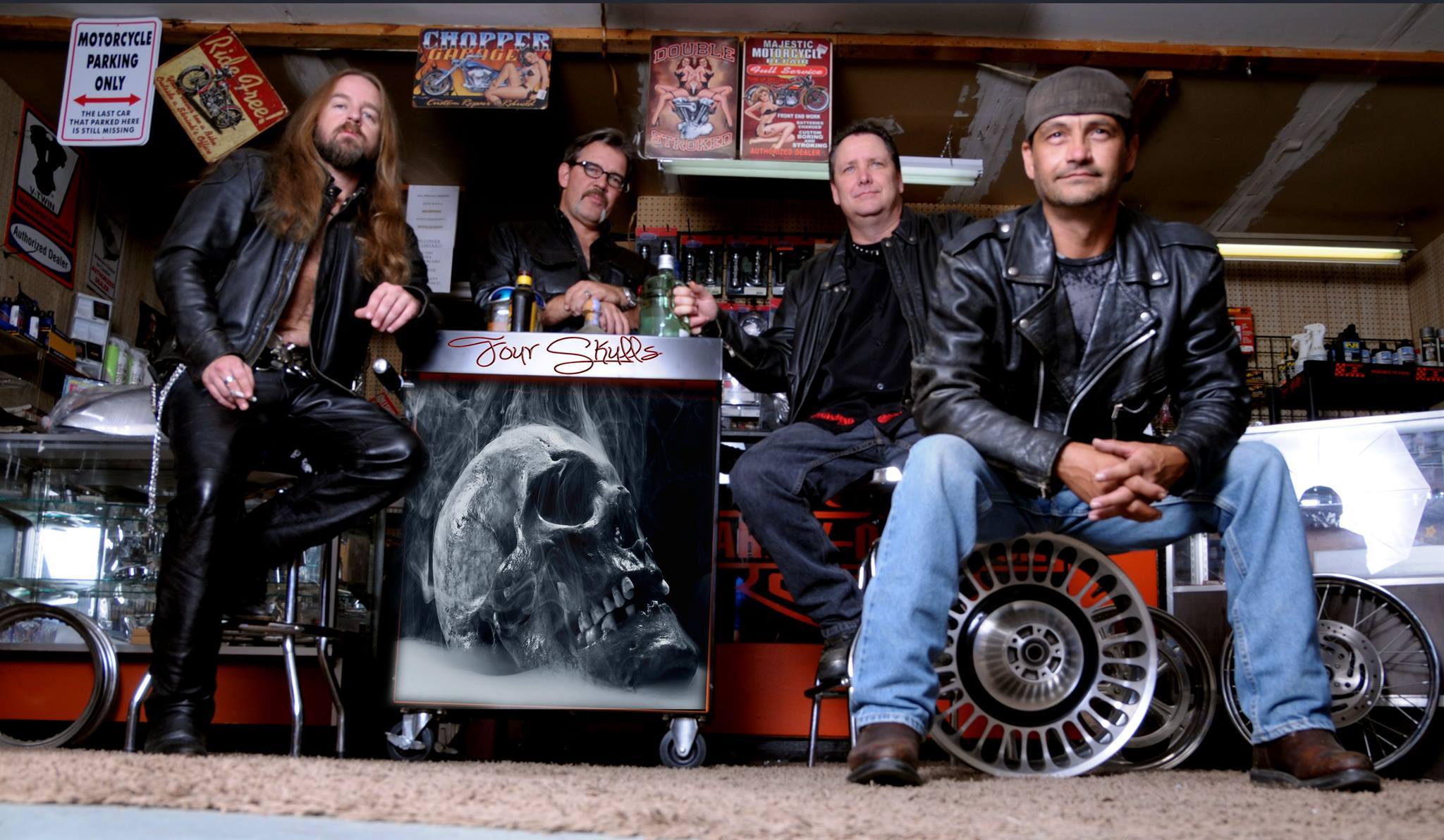 Band Name: Four Skulls
Band Members: Aaron Miller (vocals), Mick Bryan (guitar, backing vocals), Tony Pack (percussion), and Chip McGlone (bass)
Years Active: 2
City of Origin: Catlettsburg, KY.
Who are you and what do you do?
"I am Mick Bryan and I am the guitarist for the Four Skulls."
In 100 words or less, tell us how your band has gotten to this point.
"Three fourths of the band has been playing together for 20 years in various cover bands. We finally decided to build our own studio and write and release our own music. Since playing our album live, we are addicted to the feeling of having the crowd appreciate what we have created, instead of mimicking someone else's songs."
What is your latest release and how would you best describe it to someone who hasn't heard your band?
"The Four Skulls debut hard rock album, World of Hurt, is a complete concept album that is a story of a young man's journey through the hell of warfare. From the perils of leaving home, to being thrust into all-out war thousands of miles away in a foreign land, to having his mind forever changed from all he has witnessed and endured. Each song is a chapter in this excursion, and takes you inside his psyche from innocence, to brutality, to paranoia."
When making an album, which aspect of the process do you put the most time into and why?
"Definitely song writing. We spent one solid year working on this album in our spare time to try and create something meaningful. We just didn't want to throw a bunch of songs together; we wanted to tell a story from beginning to end. Each song is a chapter in the life of our subject and we took great care in trying to paint a picture, if you would, of what he was going through. A crappy song even with great production is still a crappy song. Alanis Morissette's Jagged Little Pill is proof – not great production technically, but the songs speak for themselves."
What is the best part about your band and why?
"Having played together with most of the guys for quite a while, I feel we have developed our own unique sound and it really carries over in the live situation. It seems each of us can tell where the other guy is going even if it is in uncharted territory."
What makes your band unique from the rest?
"Each musician is a sum of his influences. And each band member has influences different from the other guy. So really, all bands are unique unto their own. Sometimes those influences come together and create something very unique and memorable. I think we have that and hope we can take this album a long, long way and continue to put out new music and bring it to the masses."
How does your band survive the challenges of touring/gigging?
"It is tough! Try to stay grounded and not take in too much of the spoils of rock n' roll to the detriment of your health and safety!"
Would you rather be critically-acclaimed; rich and famous; or an under-the-radar band with a dedicated fan base?
"You're making me choose? It's always better to be rich than poor! We want it all, of course. Be rich and have a dedicated fan base – piss on the critics."
If you'd have to compare your band to another one out there, living or dead, who would it be and why?
"I hear so many bands in our music: Alice In Chains for the vocal harmonies, Megadeth and Iron Maiden for some of the riffs to the songs. Those are a few that people have compared us to. With each song, I can pick out different influences even though it may not actually sound like that particular band."
Which band/musician would you like to share many drinks with? What would you talk about?
"Alex Lifeson of Rush. He is just a complete goofball and he could keep me entertained for hours on end! We could talk about gear, of course, and golf. He has a wine collection and I have a bourbon collection. Maybe we could do some taste testing!"
Please be sure to follow us on Twitter @riffyou and at Facebook.com/riffyou.