Cancer Bats Singer Raises $20K for Cancer Charity

Cancer Bats singer Liam Cormier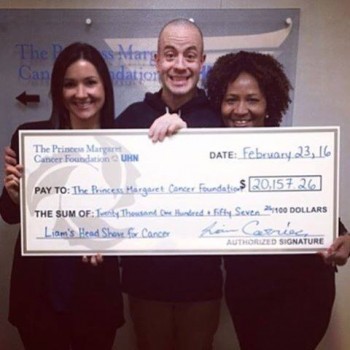 usually has some pretty serious made-for-metal hair. At shows it usually swings into his eyes, while its sweat is capable of flying off into the first few rows of fans. But, now touring is over for the time being and Cormier has done something extra admirable with his hair: he's shaved it off for cancer awareness and research.
Thanks to online donations and bucks given to the band by charitable fans at shows, Cormier raised over $20,000 to shave his head and subsequently help out The Princess Margaret Cancer Foundation.
Here's what Cancer Bats had to say about the achievement on their official Facebook page.
"Holy moly!!! $20,157.26 raised and donated to @thepmcf Thanks to everyone who threw in a pound, a euro , a kroner, a zloty, a franc, or donated online. Y'all should be very pleased with yourselves!!!! This is truly amazing!!! We have the best fans!!!!! #fuckcancer #curecancer #cancerresearch #cancerbats #pmcf #bestfansever #generosity #foreverstoked."
Good on you, Liam!
Cancer Bats released their latest pulsating album, Searching for Zero, in 2015.