JUNO Awards to Recognize Arcade Fire for Charity Work

At this year's JUNO Awards weekend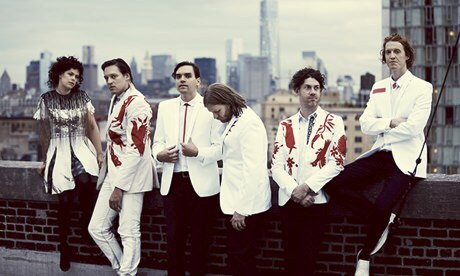 in Calgary, Alberta, Arcade Fire – Win Butler, Régine Chassagne, Will Butler, Richard Reed Parry, Tim Kingsbury and Jeremy Gara – will receive the 2016 Allan Waters Humanitarian Award. Last year, legendary rock trio Rush took home this honour.
Reads a statement issued on behalf of the Canadian Academy of Arts and Sciences: "The eight-time JUNO Award-winning indie rock band demonstrates the spirit of the award through the millions of lives they've enriched through their music and their impact on both local and national charitable causes."
"It is an honour. We are very thankful," said Régine Chassagne on behalf of Arcade Fire. "It helps us continue the work."
Over the years Arcade Fire have raised millions of dollars and generated a ton of awareness for various causes, with a heightened focus on the people of Haiti. Click on the links to learn more about their KANPE and Partners in Health initiatives.
The award will be presented to Arcade Fire during the JUNO Gala Dinner & Awards on Saturday, April 2.