City and Colour Trekking Across Canada in 2014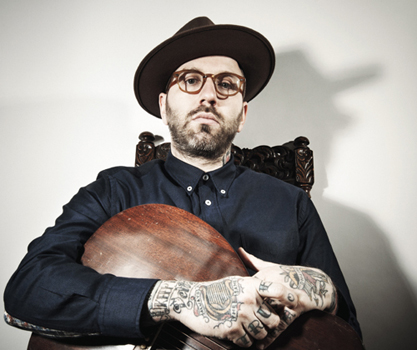 City and Colour – acclaimed singer/songwriter Dallas Green – will venture throughout Canada next year for his first cross-Canada tour since 2012. On the road to support the #1 album, The Hurry and The Harm, Green and bandmates Jack Lawrence (bass), Dante Schwebel (guitar), Doug MacGregor (drums) and Matt Kelly (pedal steel guitar, keys) will get started on May 3 in Halifax and close off the run on May 23 in Vancouver.
The Hurry and The Harm, City and Colour's fourth studio album, was released earlier this year and apart from debuting at #1 in Canada, also arrived strongly in the US (#16), the UK (#32), and Australia (#4).
Joining City and Colour on the bulk of its Canadian voyage is Half Moon Run. The critically-acclaimed Hey Rosetta! will tackle opening duties at the Montreal gig.
Ahead of going through Canada, City and Colour will head to Australia and New Zealand later this month, followed by a European jaunt beginning in January.
Tickets go on sale Friday, November 15, or Saturday, November 16, depending on the market. Check out Ticketmaster for further details.
In the meantime, here are the dates:
05.03 – Halifax, NS @ Metro Centre
05.05 – St. John's, NL @ Mile One Centre
05.07 – Montreal, QC @ Bell Centre
05.09 – Toronto, ON @ ACC
05.12 – Kitchener, ON @ Memorial Auditorium
05.13 – Kingston, ON @ K-Rock Centre
05.14 – Sudbury, ON @ Sudbury Arena
05.16 – Thunder Bay, ON @ Community Auditorium
05.17 – Winnipeg, MB @ MTS Centre
05.18 – Saskatoon, SK @ Credit Union Centre
05.20 – Edmonton, AB @ Rexall
05.21 – Calgary, AB @ Saddledome
05.23 – Vancouver, BC @ Deer Lake Park