Eminem Crushes the Billboard 200 Chart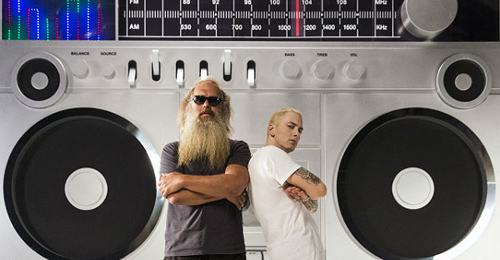 As suspected, Eminem's The Marshall Mathers LP 2 (MMLP2) has topped the Billboard 200 chart upon its debut. First week sales totalled 792,000, giving the album the second best sales week of the year, behind only Justin Timberlake's The 20/20 Experience, which sold 968,000 copies in its first week.
MMLP2 also had the sixth-largest sales week in the past five years, trailing only Taylor Swift's Red (2012); Lady Gaga's Born This Way (2011); Swift's Speak Now (2010); Timberlake's The 20/20 Experience (2013); and Lil Wayne's Tha Carter IV (2011).
The craziest statistic here for Eminem, reports Billboard, is that in its first week, MMLP2 sold more albums than the albums placed in the 2-32 spots on the chart, combined. This equates to MMLP2 selling 14% of all albums sold for the week ended November 12.
This is Eminem's seventh consecutive #1 album, all of which debuted at the top spot on the Billboard chart. Slim Shady's last album, Recovery (2010), debuted with 741,000 copies sold.
The previous week's #1 album, Arcade Fire's Reflektor, saw its sales slide 77% to 31,000 copies sold.