CMW 2014 Q&A: Brody Dalle Fights Back with Kids In Tow

To some, Brody Dalle is still that gravel-voiced, tall-mohawk sporting frontwoman of early 2000s punk act The Distillers. But in reality, she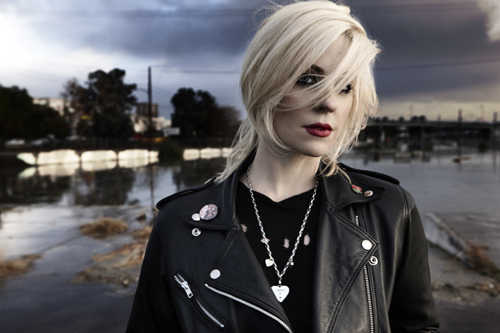 is a rock n' roll survivor that battled music industry schemers, a very public divorce from Rancid's Tim Armstrong, drug addiction, and the rigors that go along with carving out a fresh musical path.
Dalle is now a mother of two, happily married to Josh Homme of Queens of the Stone Age, and the creator of Diploid Love, her first true solo album. She's found contentment, while at the same a sound that doesn't strictly appeal to the punk rock community she was initially adored by.
If anything, Diploid Love is Dalle's opportunity to step up and showcase multiple sides of herself and accompanying musical leanings. She rocks some new wave, invites in horn sections, doesn't forget the edge that got her here, and manages to put together a collection of songs that exude a strong interest in fighting the good fight no matter the obstacles.
Ahead of her highly-anticipated Canadian Music Week performance last night, Riffyou.com had a chance to speak with Dalle about her trek to where she is today, as well as the impact her two, super-talented kids have on her life.
RY: There was a long break between your Spinerette (2008-2009) project and this one. What was the motivating factor for your return?
Brody: "Well, this is the only thing I've ever done – it's my job. I took time off to raise my kids and then I went back to work. I'm just lucky enough to love and enjoy my work. It's a different kind of job," laughs.
RY: The main thing I picked up on with Diploid Love was the fight back, motivational tone of many of the songs. Is that how they feel to you?
Brody: "Totally. It's about letting go of the past and moving forward. I did a lot of that. I think the last 10 years have been about shutting off the past and becoming real honest."
RY: Was that a hard process for you?
Brody: "Yeah, it's hard growing up. I had my kids, I lost my dad, I lost my band, started a new band, got married…it's life, everybody goes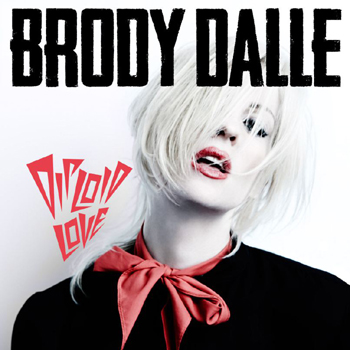 through these things. Your experiences make you who you are. I just don't want to carry a bunch of baggage around with me all the time. I really worked hard to get rid of those few pieces."
RY: Was there a particular moment when you made that decision to leave all that stuff behind?
Brody: "When my daughter was born…that was the first moment, the first epiphany. My dad dying…that was another one. Then when my son was born, I was free and clear. [At that point] I began to enjoy every aspect of my life. I have two beautiful children and an incredible husband. I want to live in the now – not the past, or the future. Without sounding like a fucking motivational speaker or book that you get at the Barnes & Noble…I'm trying to stay present. That's my motivation."
RY: You mentioned your children and your husband. How would you say they have affected how you approach music?
Brody: "My family is everything to me. My kids come first, so I've had to treat playing music in a different way. That's why it took so long to make this record. I had to make it in increments whenever I could. I was thinking recently that I would like to get a little Nick Cave about it and actually go to work for a couple of days in the studio. I think now that my kids are getting a little bit older, I can devote more time to music. When my son was a baby, I made this record. I was breastfeeding and then going into the studio. That was intense."
RY: Now that you have a family to worry about, do you have to approach the music business in a different fashion?
Brody: "Absolutely. I spent the first part of [my time in] The Distillers running everything. I was the accountant, the merch girl. Then my life changed drastically and we went on this other path. It was this care-free, fuck everything, do drugs all day and all night, and just be on the road and terrorize thing. [Then] we weren't paying attention to all kinds of things that we should've been paying attention to, and it really burnt us and fucked us up in the end. We were being taken advantage of by our management at the time. People who were supposed to be looking out for us financially were screwing us. So, we ended up in a lot of debt. It was tough and I've vowed to never go through that again. I'm now involved in every aspect of [my business]."
RY: Unfortunately, a number of couples who are popular musicians in their own right don't stay together. How have you and Josh managed to survive the music industry as a couple?
Brody: "We put each other and our kids first. We both do the same thing, so we understand the game and the intricate ways that it works. I think when you understand each other across the board on deep levels…it's not hard for us. We've been through everything together. We've been through everything. You name it. He's my best friend and I love him. We love each other and want to be together."
RY: Have your kids started picking up drumsticks around the house and banging on stuff yet?
Brody: "Yeah, my son has a little drum kit and sounds really good. It's a cheap drum kit, but it sounds amazing! My daughter has said recently that she wants to play bass. She's just gotten into Siouxsie & the Banshees, and she's eight. She started writing poetry when she was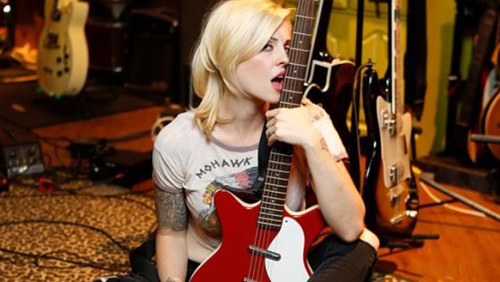 six! But, we don't push [music] onto them. If that's what they want to do, great, I just want them to be happy."
RY: Sounds like you have a new rhythm section in the works.
Brody: "I know," laughs. "It's true."
RY: What type of advice would you give your kids if they wanted to get into the music industry?
Brody: "I don't know, it's hard to say – depends on what it is. If they chose to do that, we'd support them in any way possible…like anything. If my daughter wanted to be a veterinarian, we would [help her] find out what it takes to do it. My son recently told me that he wants to be a fire truck. I was like, 'oh baby, I don't think that's going to happen. Good luck with that,'" laughs.
RY: I don't know, technology is doing amazing things nowadays…
Brody: "Yeah, 'you want to be a fireman?' 'No, I want to be a fire truck.' 'Well, oookay,'" laughs.
-Adam Grant
Please be sure to follow us on Twitter @riffyou and at Facebook.com/riffyou.