Tour Diary: The Penske File Do America (and Canada too!) Pt. 3

Travis Miles here from Burlington, ON-based band The Penske File. For those of you who don't know, we play a folk-infused blend of melodic punk rock, and have recently embarked on our first (legitimate) American tour. I will be updating my firsthand accounts of our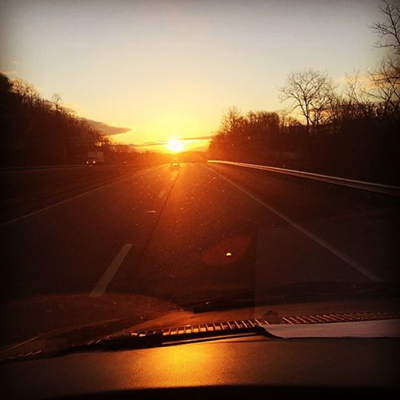 travels here at Riffyou.com through a series of blogs, photos, and run-on sentences. If that tickles your fancy, read on.
Rolling hills, rolling clouds, green with promise and grey with dread, The Hold Steady plays over the radio, a soundtrack to the beauty in disconnected living. As the van pushes on, I slip backwards into the dark parts of my mind where the truest rays of light shine from time to time – like the void that is only seen for a glorious and forgettable moment when one moves from one proverbial room to the next. I sit and hover in that ray of that light as my keys tap an off-beat rhythm along to the sounds of Boys and Girls in America. Words of amnesia and days of memory, it seems we etch our history into the pavement without realizing we ever did a thing. One day we'll look back though, one day.
It's Saturday, May 3 and our brazen convoy is gallivanting through the Appalachian mountainous scenic route from Pittsburgh to Philadelphia. We originally made the decision to take the long way to avoid a series of tiresome tolls, but now it seems worth it regardless of saving a few bucks. The scenery is beautiful, diverse and reminiscent in a vague way of driving through the mountains of Canada's west. Since my last update, we have played in four cities for the first time: Madison, WI., Chicago IL., Indianapolis IN., and Pittsburgh PA. Here's a recap.
On Monday, April 28 — where I last left off — we arrived in Madison around 4pm. It was a grey afternoon, so we camped out in the van for the most part, aside from a quick walk around the state capitol building which resided not 100 meters from where we were parked. The show that night was good, considering the weather and the day of the week. Our set was well received and we got to share the stage with one especially stellar local band called Help Desk. We (thankfully) posted up that night at the bartender's house, and were off in the morning after some much appreciated pancakes.
That day we had a show cancel in Milwaukee and headed straight to Chicago. We parked on a street corner near a friend of Dallas' house, drank some beers, and went to a couple cool bars in the area. I got drunk and slept on the floor of the van. I have no shame for this.
The next day Wednesday, April 30 was Dallas' birthday, so we went to see the Detroit Tigers play the Chicago White Sox in the afternoon before loading in for our show at Chicago's Quenchers. The show went well, and we were put up by a member of one of the band's we played
with, In Exile, who were excellent. We took advantage of a much needed sleep in, and after bombing around downtown for an hour or so we left for Indianapolis.
The show that night was odd to say the least, but it was a last minute addition and better than nothing. We played with a country band, an indie rock band, and a burlesque trivia troop, so you can understand what I mean by 'odd.' We got out of dodge right as the night was done, and started through the darkness towards Pittsburgh. I crashed out on the back bench and woke up early in the morning to find that we had already arrived in the city.
I was shocked by the beauty of the city as I awoke, and enjoyed it during a jog through downtown and to the historic Fort Pitt Park. Our show that night was easily the best of the week, and all of the bands were great. Afterwards, we headed a few miles out of the city and stayed with a new friend, Robbie, with whom we drank beer and whiskey into the early morning, while bonding over acoustic jams and overlapping tour stories. In the morning we lazed around, drank coffee, ate beans and rice, packed up and left town feeling mentally refreshed.
The next week will see us trekking through the northeastern states for the first time as a band, which I'm certainly looking forward to. Check back if you'd like to hear more, and thanks for reading.
-Travis
Have a look at this feature interview Riffyou.com did with The Penske File in late 2013.
Please be sure to follow us on Twitter @riffyou and at Facebook.com/riffyou.