CMW Artist Profile: BC Indie Pop band, Isobel Trigger

Throughout Canadian Music Week, Riffyou.com will be introducing you to some of this year's amazing lineup. Today, here's a look at BC-based indie pop band, Isobel Trigger. Check out the band's CMW dates at the bottom of the interview.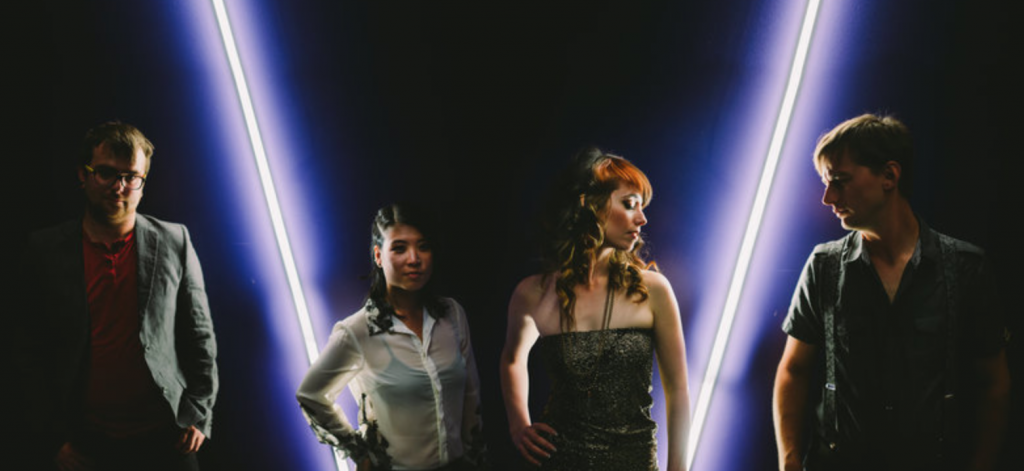 Band Name: Isobel Trigger
Band Members: Felicia Harding (vocals, keys), Ariel Tseng (drums), Brett Faulkner (guitar), and Ryan Salmond, (bass).
Years Active: Most active over the last 2 years.
City of Origin: Victoria, BC.
Latest Release: Nocturnal
Who are you and what do you do?
"We are your drugs and your rehab. We are here to melt your faces off with such a high-octane performance you won't even realize that you've peed your pants."
In 20 words or less, how would you describe your band?
"Half bionic, half human synth/glitter-core/alt-pop/dance-rock core."
Why should people care about your band?
"You stand a better chance at meeting people you're interested in boning at our show than any other show. We spread over the Kinsey scale like icing on a cake. When you come to our show there's something for everyone."
If someone comes to your show at CMW, what could they expect to see?
"Four people rocking out and having fun! We have a lot of stage antics and we will dance at you."
How vital is CMW to a band in your position?
"This is our first year at CMW and we feel like it is a huge milestone in our breakout year."
What do you hope to achieve at CMW?
"Other than world domination, our itinerary includes attending as many music workshops/panels as we can to soak in the maximum amount of knowledge. We are also looking to widen our industry network through the conference so expect to see us around!"
Lots of CMW shows will be attended by music industry professionals – how does knowing that impact the way you approach these performances?
"We always strive to deliver a mind-blowing performance and we plan on blowing some minds as CMW. We are currently in the midst of a national tour so suffice it to say we have been flexing our rock muscles quite regularly."
How much sleep do you anticipate having during CMW?
"Eight hours a night because that's how we roll. Gotta get the beauty Zzzs on the road!"
During your stay, where will you and your band be sleeping, showering, or taking groupies?
"We will be staying at Matt's house. He works at our record label. There won't be much room so if we meet any groupies we'll have to go to their houses."
At CMW we will mostly consume…
"Sandwiches, Gatorade, and water. We are all about keeping ourselves healthy for maximum energy. We do drink at shows, but we won't want to have hangovers during the conference as we will want to do maximum learning. Isobel NERDS."
CMW for us will be a failure if…
"Failure is not an option. Question does not compute."
CMW for us will be a success if…
"We gain knowledge, make good connections, and put on a great show – and also if we find a Horcrux."

Please be sure to follow us on Twitter @riffyou and at Facebook.com/riffyou.