Death From Above 1979 No Longer Repulsed by Themselves

In a new interview with Billboard, reunited and always-revered rock duo Death From Above 1979 admits to being "under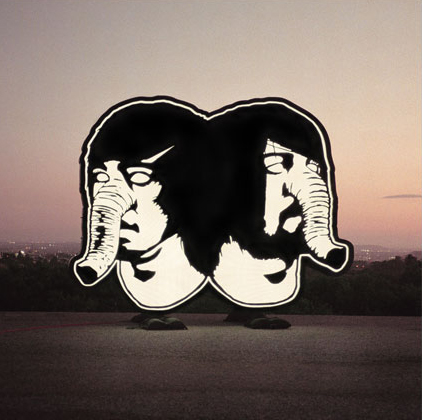 duress for probably 90 percent of the first run of our career."
As you may recall, the group's 2004 debut full length, You're a Woman, I'm a Machine, blew the band up the popularity and obligation scale, before blowing it up entirely in 2006. After six years together, one of the most excitingly heavy bands Canada had ever produced was no more.
DFA 1979 vocalist and drummer Sebastien Grainger recalls the stress that came from industry pressures that would lead the band towards undesirable situations.
"Because we started in the hardcore/punk scene, someone got it in their minds that we could play all the time," says Grainger, when informing Billboard of an occasion in England where they were booked to play three shows in one day, the last of which was a fourth-floor walk-up that they had to haul their gear up to. "'Are we really going to go carry two giant cabs and a drum kit to play in front of fucked-up people in the middle of the night because it will read cool in a press article?' That's where we were at."
Adds bassist and synth player Jesse F. Keeler: "We just did fucking anything we were told to do. And it felt like an uphill climb."
In the article, it is also explained that what initially brought Grainger and Keeler back together was an email conversation in which they both agreed that the idea of being in DFA 1979 was no longer repulsive to either of them. From there, of course, reunion shows would soon follow.
"It's not the same, it's better," explains Grainger about DFA 1979's new album – The Physical World – which we'll all be able to hear on September 9. "We were really deliberate in taking aspects of our band that were poppy and making them poppier, and taking aspects that are heavy and making them heavier."
-Adam Grant
Death From Above 1979 play Riot Fest in Toronto on Saturday, September 6. It's rumoured that the band will play a pair of warm up gigs in the city on September 3 and 4. When that's confirmed, we'll let you know the details.
Please be sure to follow us on Twitter @riffyou and at Facebook.com/riffyou.