TF5: Jordan Hastings Shares His Top 5 Alexisonfire Songs

On December 30, 2012, Alexisonfire capped a triumphant, if not unlikely career with a sold out performance at Hamilton,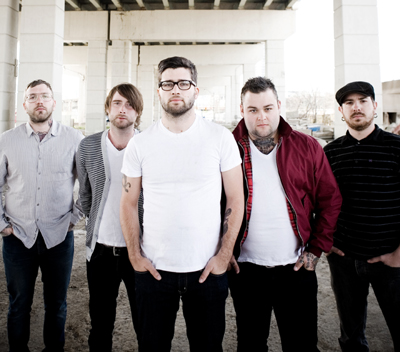 ON's, Copps Coliseum.
During their 11 or so years on the scene, Alexisonfire not only managed to have their blend of screamo, punk, hardcore, metal, and melodic rock appreciated within the pockets that embraced such sounds, but also on a mainstream level where music such as this rarely arrived to in Canada.
In 2014, some of the band members continue along with fresh projects: Dallas Green is rolling right now with City and Colour, Wade MacNeil is kicking ass with Gallows, while Jordan Hastings is rocking away with his new band, Say Yes.
Recently, Riffyou.com spoke with Hastings about the just released Say Yes EP, but also had the opportunity to ask him about what his five favourite Alexisonfire songs to play were.
For this edition of The Friday 5, (in no particular order), here's what he selected:
'The Northern': "That one was just a really fun tune to play and I could just smash the shit out of the drums…which I really like to do."
'Happiness By the Kilowatt': "Even though I wasn't there when they wrote this song, we definitely changed it a lot for live shows. We re-wrote the whole thing and ended up adding another four or five minutes to the middle and end of the song. That was really fun to play live, and was usually the one we ended with. If I'm not mistaken, it's the last song we ever played."
'Mailbox Arson': "This one has a ripper of a drum fill at the beginning that I always used to fuck up for some reason. We wrote it, and it was fine, then we toured with it for a year and I was able to play it with no problem. Then, for three months of touring, I'd mess it up every single time. I think it just got into my head that I knew I was going to mess it up, so I did. One day I got it again, and didn't fuck it up again," laughs.
'Keep it on Wax': "This one was always fun to play too. It is straight-forward at the beginning and has that Queens of the Stone Age rock beat to it."
'We Are the Sound': "That was a scorcher. It has that punk beat, which is weird, because Dallas wrote the intro riff, and when were trying to figure out what beat to play over it, he said: 'why don't you play a really fast punk beat?' And I was like, 'really?' Then he said 'yeah, I know it's weird that the Greener would want you to play a fast punk beat.' Normally he and I were the slower rock guys when writing."
Be sure to catch City and Colour, as well as Say Yes, at Riot Fest in Toronto from September 6-7.
-Adam Grant
Please be sure to follow us on Twitter @riffyou and at Facebook.com/riffyou.