The Dirty Nil Releasing 7" Through Fat Wreck Chords

We've all known that Dundas, ON, punk rockers The Dirty Nil and Fat Wreck Chords have been flirting for a few months, publically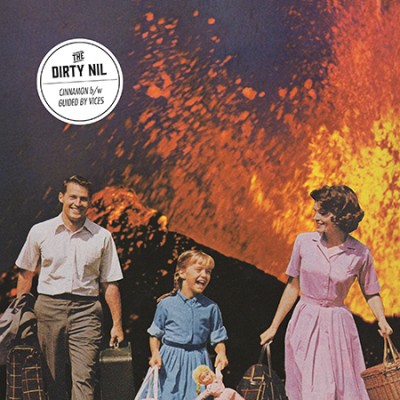 expressing their mutual affection for one another. Finally, the pair have gotten into bed together for a 7"…record that is.
On August 19, the label will release the band's Cinnamon b/w Guided by Vices 7", just before the band embarks on a sizeable American tour in July (view the dates below).
"'Cinnamon' and 'Guided by Vices' are about chasing death and fearing the opposite sex," says the band of the 7". We look forword to playing them and other songs of smiling discontent to all the girls and boys on our 2014 tour of America."
When Riffyou.com interviewed the band in March, frontman Luke Bentham confirmed that Fat Wreck Chords Founder Fat Mike did have a genuine appreciation for The Dirty Nil, after he gave them a really nice shout-out during a Reddit "Ask Me Anything Segment."
Here's how our exchange with Bentham on the subject went:
RY: One thing a lot of people know about you now is that Fat Mike from NOFX is a fan. Did his statement on Reddit about hoping to sign The Dirty Nil hold any water?
Luke: "Umm, I have to be really careful about what I say with this one. We have been in contact with him, but there's nothing I can really talk about right now. It's still up in the air. But, it was a pretty big thing to get a phone call from him that one day. To think that people are listening to our band in Southern California, with that kind of fervor, it's pretty cool. In terms of the nature of our relationship, right now we're friends."
RY: For you, does having someone like Fat Mike reach out to you give you any further validation for what you're doing musically?
Luke: "I'm not going to lie – it's definitely a bit of a validation when something like that happens. It's someone pretty big from the community reaching out…it's not necessarily a community I've ever been involved with. A lot of people I've spoken with were really losing their minds over [the story] because they had more of a relationship and emotional connection with Fat Wreck Chords than I did…it just wasn't the thing that was going on in my formative years. To hear how earnestly he really liked our band was amazing. You then try to dust that off of your shoulder and move onto the next thing…it's pretty easy to sit there and go 'golly!' and sit there and smile about your past accomplishments. It's motivating, but by no means an end."
-Adam Grant
Tour Dates:
7/5 – Toronto ON – Sneaky Dee's
7/8 – Detroit, MI – The Rockery
7/9 – Chicago IL – Schwag City
7/10 – Minneapolis MN – Midway House
7/11 – Lincoln NE – Duffy's Tavern
7/12 – Denver CO – Meadowlark
7/13 – Salt Lake City – Shred Shed
7/15 – Olympia WA – The Northern
7/16 – Seattle WA – Highline
7/17 – Portland OR – Katie O'Briens
7/18 – Sacramento CA – Cafe Colonial
7/20 – San Francisco CA – Honey Hive
7/21 – Oakland CA – The Nightlight
7/22 – San Jose CA – The Rock Shop
7/25 – San Diego CA – Soda Bar
7/26 – Phoenix AZ – Trunk Space
7/29 – Austin TX – Beerland
7/30 – New Orleans – Gasa Gasa
7/31 – Atlanta GA – Wonder Root
8/1 – Nashville TN – East Room
8/3 – Cleveland OH – TBA
Please be sure to follow us on Twitter @riffyou and at Facebook.com/riffyou.