Tenth Johnny Ramone Tribute Event Happening in August

Linda Ramone, the widow of Johnny Ramone, is presenting a tribute event in the name of her husband to mark the 10 year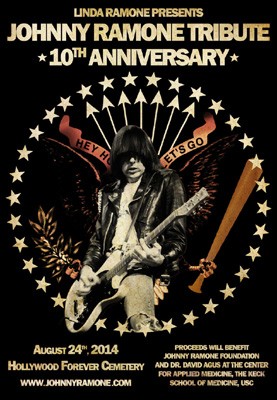 anniversary of his passing. Happening on August 24 at Hollywood Forever in Los Angeles, CA, the event will be hosted by Rob Zombie, a dear friend of the fallen Ramones guitarist.
In addition to hosting duties, Zombie will also lead an all-star band featuring Steve Jones (Sex Pistols) and Duff McKagan (Guns N' Roses, Velvet Revolver) through a set of Ramones covers. Comic actor Fred Armisen will also make an appearance as his punk rock alter ego, Ian Rubbish.
In addition to those performances will be a screening of Zombie's film The Devil's Rejects, plus Kirk Hammett of Metallica will display his collection of horror memorabilia.
Proceeds will benefit the Johnny Ramone Foundation & Dr. David Agus at the Center for Applied Medicine, USC.
In a recent article published by Rolling Stone, Zombie reflected on the first time he really met Johnny:
"I really met John when the Ramones were opening for my band White Zombie on tour," he recalls. "John was concerned about how many T-shirts they could sell and if they could hang the Ramones backdrop. I told him they could do anything they wanted. Johnny was the most specific person I ever met. He liked everything exactly perfect, no matter what it was. It was always fun and exciting to watch him order dinner in a restaurant.
Click here for full event details.
-Adam Grant
Please be sure to follow us on Twitter @riffyou and at Facebook.com/riffyou.