Dixie Chicks Take Aim at Embattled Mayor Rob Ford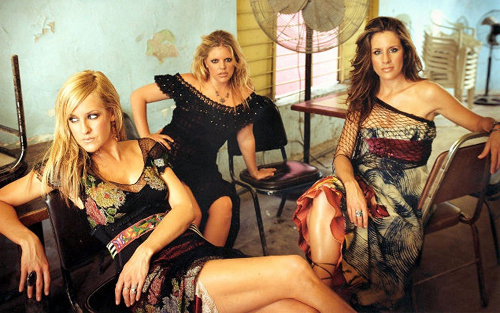 At a weekend gig in Hamilton, ON, Dixie Chicks member Natalie Maines didn't just dip her toe into another hot-button political issue: she bashed her foot right through it, in a move that can be viewed as a modest follow-up to her 2003 George W. Bush critique that left Dixie Chicks crucified and threatened.
As The Hamilton Spectator reports, Maines took a couple of shots at Toronto Mayor Rob Ford, who last week finally owned up to smoking crack cocaine, probably during one of his drunken stupors. A video showing the Mayor obviously intoxicated and talking about killing someone also surfaced.
After belting out "Goodbye Earl," Maines recalled seeing a Huffington Post poll which stated that Canadians are the happiest people on the planet. Then came the punch line: "You seem a lot less happy since all this stuff with Mayor Ford went down. Surprisingly, knowing that Canada has a little political controversy makes me happy."
A few songs later, Maines asked the Hamilton crowd felt about its own Mayor. The response was reportedly mixed, but paved the way for this dedication to "Sin Wagon": "Wherever Mayor Ford is tonight, whatever he's smoking, we send this out to him," exclaimed Maines.
In 2003, just ahead of America's invasion of Iraq, Maines stood before a UK crowd and said: "We don't want this war, this violence, and we're ashamed that the President of the United States (George W. Bush) is from Texas."
Once this statement travelled back to the U.S. of A, the backlash was swift and hard. Dixie Chicks not only had to endure airplay and touring obstacles, the band, more specifically Maines, was subjected to death threats.
However, this trio recovered strongly, as their 2006 album Taking the Long Way brought them five Grammy Awards, and produced one of the best retort songs of all-time, "Not Ready to Make Nice."