Dropkick Murphys Drop LP Box Set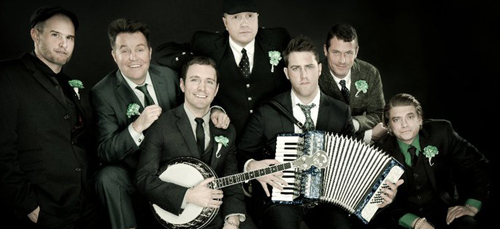 Celtic punk icons the Dropkick Murphys have released a vinyl box set that features every one of the band's studio albums. Only 2,000 copies of this set will be made available for purchase at the DKM and Epitaph stores, as well as select retailers.
The lucky receiver of this grand box of hard-charging goodness will be able get their Dropkicks fix with the albums Do Or Die, The Gang's All Here, Sing Loud, Sing Proud, Blackout, The Warrior's Code, The Meanest Of Times, Going Out In Style, Signed and Sealed in Blood (2x LP), Singles Collection, Vol. 1 (2x LP), and Singles Collection, Vol. 2 (2x LP).
The records are pressed on black or transparent green vinyl, and come in a stunning hardbound box. Also inside is a 36" x 60" Dropkick Murphys pirate flag.
The whole package comes in at $199 on its own, but there are options to bundle it with a band t-shirt.
The Dropkick Murphys performed the American national anthem and their hit "I'm Shipping Up to Boston," ahead of Game 6 of this year's World Series in Boston. The city's Red Sox wound up clinching the title that evening.