Fan Review: "Howl," the new Niiko Soul & Ben G. Single

A suggested video on YouTube can be a funny thing. Sometimes it's completely unrelated and you scratch your head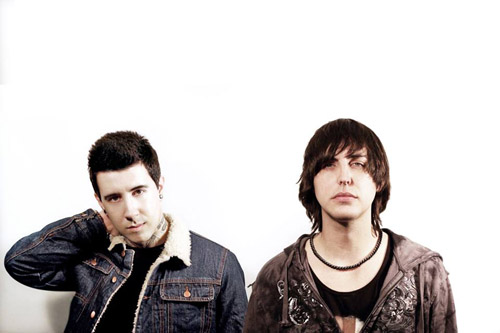 wondering why it was suggested and why you are watching it. Very rarely is it ever something you will remember, or come back to. Recently, however, through the power of suggestion I stumbled upon a duo that is now a part of my life. They satisfied my voracious musical appetite, and I think they will do the same for you.
After watching a live performance by The Rolling Stones, I clicked a link to a little ditty called "Howl" by Niiko Soul and Ben G., an Aboriginal music duo from London, ON. The song started in a fairly humble manner but quickly turned into an anthem that is heavily addictive.

"Howl" is not about turning into the native werewolves in Twilight (although that wouldn't be a bad thing), it instead brings together moonlight spiritual transformations that fuel protest, revolution, and rebellion.  The lyrics are deceivingly simple, but the more you listen, the more you understand what they are getting at.
It seems these days even indie music tries to conform, and this song very much breaks that cycle. It's a mix between The Doors, The Black Keys, and Van Halen, joining indie sounds with vintage rock vibes and a huge chorus. In this duo, both gentlemen sing lead at various times. It sounds like a logistics nightmare or something that would break the flow, but it somehow works despite the fact they both have very different vocal styles.  Niiko Soul has a more riff and soul infused flavour with explosive energetic bursts, where Ben G. is a bit more of a crooner, with the ability to hit and hold some pretty big notes in the chorus.
The song includes many highlights, such as Native Pow Wow drums in the solo, adding an unexpected twist that gives the track significant replay value and depth. I also really like the guitar tone in the verse – it is a little more laid back and less intrusive than many distorted guitar effects you hear on the active rock charts. This track seems truly inspired.
Neither of these two guys are hard on the eyes either, and will no doubt be developing a strong fan base this spring. According to their official Facebook, "Howl" has already entered national radio charts, appearing at #36 on the NCI Aboriginal Countdown. This song is most certainly worth buying for $0.99 on iTunes, and sharing on social media. What's more, this is a band destined to cross over from the Aboriginal scene and become a Canadian indie rock staple.
Review by: Shan McFeah
To check out this track, have a look at the video below: