Q&A: Biblical Doesn't Kneel to Conventional Guitar Rock

In the fall of 2009, Toronto-based heavy rock band Biblical began as just four dudes – Nick Sewell, (vocals, bass), Jay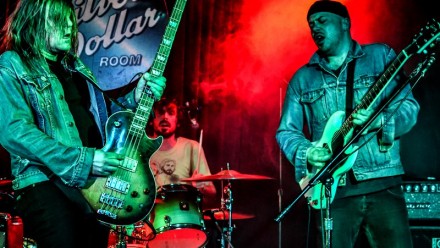 Anderson (drums), Matt Mclaren (guitar, vocals) and Andrew Scott (guitar/organ) – wanting to play rock n' roll and drink beer together.
Sewell and Scott had recently completed touring duties as part of Sebastien Grainger and The Mountains, and arrived into town without a band to turn to. Mclaren and Anderson would invite the duo to jam, and as the friendships began to grow, so did artistic progression. After about half a year, the group tested out an original song, and as Sewell informs Riffyou.com, "everything snowballed from there."
2011 would see the release of their Self-Titled 10" EP, and the path toward congealing into a full-fledged unit that would continue to gain confidence and a belief in the sprawling, you in-your-face riffage that was being put forth.
Last week, Biblical released a more complete album, Monsoon Season, through New Damage Records. A few days into the album's life upon earth, we spoke to Sewell about the band's classic, yet refreshing brand of rock n' roll.
RY: Congratulations on Monsoon Season. That's a pretty solid album you have there.
Nick: "I've never been more satisfied with a finished product, than I am with this one. With other things I've done, I look back and go 'yeah, that was cool, but…' But when this album first came out through iTunes, I bought it, and actually listened to it for the first time – it still kicked ass!"
RY: What elements really stood out for you?
Nick: "Sonically, I'm really happy with the space that the record occupies. When you make a guitar record these days, it's very easy to just go crazy with overdubs and try to fill up the mix as much as possible. But, what I really like about our record is that there's so much space and separation – sometimes we fill up [the songs], sometimes they're wide open. I really like the contrast."
RY: There are a lot of long, sprawling songs on the album. When some bands do that, their songs tend to get boring or feel too overdone. Somehow, you've managed to avoid that. How would you describe your songwriting style and influence?
Nick: "In terms of the style, we made a discovery when we made our 10" EP. We have this song "Oubliette," and we'd been playing it for a very long time. It has a moment of getting really, really loud, then backing off. So, that was really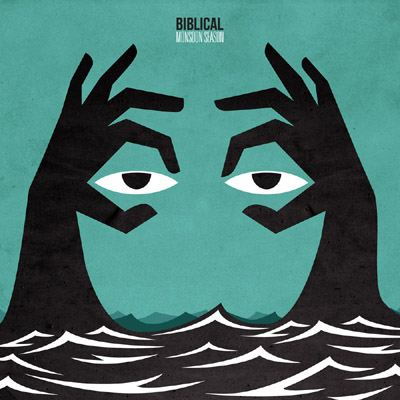 the jumping off point for this record: 'what if we took that concept, and tried to make a whole record based around creating those tensions between loud and soft, or fast and slow?' That's something we tried to keep in mind with this album. It takes various forms in these tunes, but I think you'll always find those elements of contrast in these songs."
RY: With that in mind, were you seeking to show a large evolution album over album this time around?
Nick: "I don't know if we really wanted to show a big evolution, but there was definitely an evolution because we've been a band for a longer time and have more experience – that shakes out in a certain way, and you start to find your sound. When we made the 10", we weren't even a year into being a band. We thought we were one kind of band, but here we are years later and we've solidified what we think is our actual sound…it's one that people respond to as well."
RY: You guys have all been in multiple touring and notable bands (The Illuminati, The Bicycles, and The Old Soul) ahead of this one, so I was wondering how those experiences have helped you with Biblical?
Nick: "Everybody brings something a little bit different to the table. Jay and Matt played in a ton of different bands, even now – old stuff, punk stuff, mellow stuff. They do all kinds of things and I think that comes to light when they're playing: they're able to mix in different flavours…same with Andy. Those three guys have so many different genre influences to bring in, and that's what makes us sound not like every other guitar band. I've pretty much only played in guitar bands, but I like to think that I have a good ear for riffs."
RY: Now, you guys have Heavy MTL coming up this summer. I'm sure that'll be a thrilling event for you.
Nick: "To be totally honest, if you told my 14-year-old self that you'd be on a poster with Slayer, I wouldn't have believed you," laughs.
-Adam Grant
Upcoming Canadian Tour Dates:
03.26.14 Montreal, QC – Foufounes Electriques (Support – Andrew WK)
03.29.14 Toronto, ON – Horseshoe Tavern (Release Party)
04.14.14 Guelph, ON – KazooFest
04.25.15 Sarnia, ON – Empty Fest (Liquid Johnny's)
Please be sure to follow us on Twitter @riffyou and at Facebook.com/riffyou.