Riff Review: Foster The People – "Supermodel" (Sony)

One of the most beautiful parts about Foster The People's much-marvelled debut album Torches was the fact that it was, well, their debut album. Thus, one of the most unfortunate parts about their sophomore effort Supermodel, is that no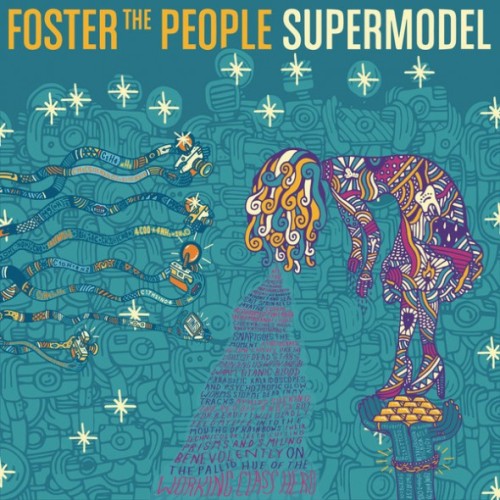 matter how good it is, a sizeable number of music pundits will persecute it for not living up to the lofty expectations they had placed upon it.
Leading into today's highly-anticipated release of the album, it had been widely explained by the band's Mark Foster that this would be a very different offering for Foster The People – it's almost as if he anticipated some backlash and attempted to outfit others with safety vests and helmets.
The truth of it is, if you're able to just appreciate an album for being a good album instead of what it should've been, or how it should've strayed further away from its predecessor's formula, then you'll still be able to shake your ass to the latest round of Foster The People's infectious, danceable alt-pop.
Here, the band sounds far more travelled. There's some vacation-destination instrumental work going on here, especially in "Nevermind," a track that could easily be played in a Mexican dive bar or all-inclusive resort without anyone batting an eye. That said, the guys don't stray too far away from what got them here. Lead track "Are You What You Want To Be?" sounds like it could've been from Torches, but instead acts as a mantra, or even mission statement for Supermodel.
First single "Coming of Age" is a masterful radio station dweller destined for sweaty club crowd glory, while "Pseudologia Fantastica" could be Foster The People's attempt to coyly bring MGMT out of their self-imposed exile from commercial success and glory. It has a slow, at times creepy, brooding groove, but sails gracefully toward danceable prog-rock.
"Best Friend" is infectious and something that could've appeared in a John Travolta movie of the 1970s, before it gets moderately defiant and infuses a horn-backed, soul-based vocal finger-pointing that Aretha Franklin could shake her finger along with. Meanwhile, "Goats in Trees" is quite possibly the best song title I've seen this year, but the song itself doesn't live up to its title. It's stripped down, and a little too sprawling for this guy's liking.
Fear not, once Foster The People leaves the petting zoo, they ease into "The Truth," which acts as evidence as a more grown-up sounding band that is reaching for more than what they currently have. The electro elements are still here, but the introspection explored shows that growth is still in the works. "Fire Escape," meanwhile, closes the album by providing a similar vibe. It's not a bombastic conclusion to an album that features many exceptional twists and turns, but by no means should it be ignored.
If you haven't read some of the many already penned reviews and been convinced that this is a middle of the road album, I commend you.
Second albums are tricky…especially for those who shot high into the atmosphere upon their first flight out of the music industry cannon. On Supermodel, Foster The People is able to embrace where they came from, but also provide hope that this isn't a band that's content with remaining in the same box as the easily defined.
Many great things are still to come from this band. While not all moments on Supermodel are worth bragging about, Foster The People haven't let their people down. If anything, they've provided them with hope that many more albums can exist.
This album is: Riff Respected
By: Adam Grant
 Please be sure to follow us on Twitter @riffyou and at Facebook.com/riffyou.