Foo Fighters Bassist Mendel Releasing Solo Album in March

Foo Fighters bassist and one-time member of Sunny Day Real Estate, Nate Mendel, will release his debut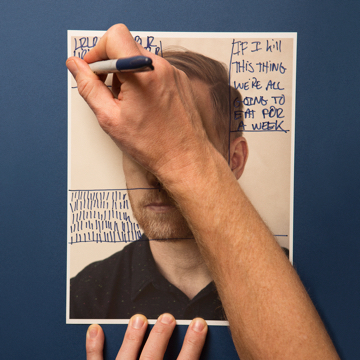 solo album – under the moniker of Lieutenant – on March 10 through Dine Alone Records.
Titled If I Kill This Thing We're All Going To Eat For A Week, the nine-song album was recorded in the Foo Fighters' Studio 606 with producer Toshi Kasai (Melvins, Helmet) helping lead the charge.
Guesting on the album is the likes of Foo Fighters guitarist Chris Shiflett (on "The Place You Wanna Go"), Page Hamilton (Helmet), Josiah Johnson (The Head and the Heart), Jeremy Enigk (Sunny Day Real Estate), as well as drummer Joel Plummer (The Shins, Modest Mouse), who was in the studio from the beginning.
"The music draws listeners in with sincere lyrics and keeps them moving with echoed, jangly guitars as heard on standout tracks like 'Rattled,' 'Prepared Remarks' and 'Belle Epoque,'" reads a description of the album.
Lieutenant – which now consists of Mendel, Christian Wargo (Fleet Foxes) on bass, Paul 'Pablo' Wilson (Snow Patrol) on guitar, and Jorma Vik (The Bronx, Mariachi El Bronx) on drums and Kasai on keys – will soon announce spring tour dates, including a SXSW appearance.
If I Kill This Thing We're All Going To Eat For A Week Tracklisting:
1. "Belle Epoque"
2. "The Place You Wanna Go"
3. "Believe The Squalor"
4. "Rattled"
5. "Prepared Remarks"
6. "Some Remove"
7. "Sink Sand"
8. "Artificial Limbs"
9. "Lift The Sheet"
Please be sure to follow us on Twitter @riffyou and at Facebook.com/riffyou.