Foo Fighters to Resurface in Mexico, Dave Grohl Jams with Actors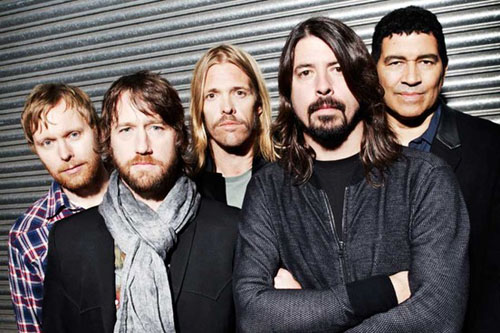 Foo Fighters have marked December 13 as their return to the stage, by booking a headlining gig at Mexico City's 55,000-capacity Foro Sol stadium. Dave Grohl and his fellow Foos last took to the stage in September 2012 in New York at the Global Festival.
It's also become clear that 2014 will see the release of a new Foo Fighter album, which will follow-up the band's 2011 Grammy Award-winning Wasting Light. Without getting into deep specifics, Grohl recently explained that next year would be a "big year for the Foo Fighters" and that their next offering will "not be a conventional record."
In the meantime, Grohl has partnered with past collaborator Jack Black (actor, and one half of rock group Tenacious D), as well as actor Val Kilmer for spoof band Sweetriver and the Huckleberry Dogs. The band performs "Back to the Beginning" for the Black-produced Yahoo web series, Ghost Ghirls. That track appears on the official Ghost Ghirls EP, as does a second effort from the band, "Georgia Peach." It can be downloaded now from iTunes.
Since the last Foo Fighters album, Grohl has kept quite busy. He released his directoral debut Sound City, a film that pays tribute to the legendary recording studio of the same name. In the film Grohl interviewed a wide collection of artists who spent time in the studio (Fleetwood Mac, Tom Petty, Neil Young, etc.), and even jammed with a few of them. The movie led to a collaboration with suriving Nirvana bandmates Krist Novoselic and Pat Smear (now in Foo Fighers), and The Beatles' Paul McCartney on new track "Cut Me Some Slack." The quartet would later perform that song at 12-12-12 The Concert for Sandy Relief and on an episode of Saturday Night Live.
Grohl also played some drums on the 2013 Queens of the Stone Age album …Like Clockwork and spent time promoting the 20th anniversary of Nirvana's In Utero album.
Phew, that's one busy fella.