Riff Retro Review: Weezer – "Pinkerton" (Geffen/Universal)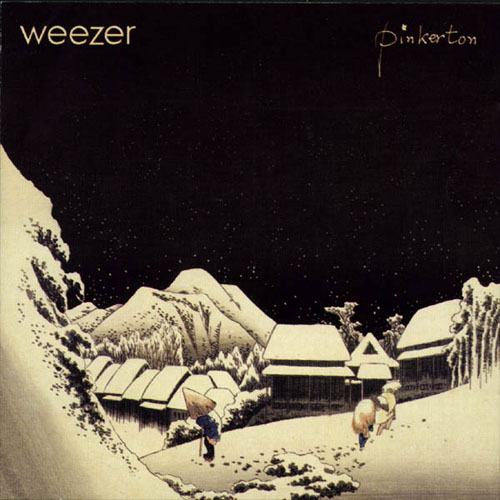 For Weezer, Pinkerton had the unenviable task of following up the band's incredibly popular, front-of-mind generating debut, 1994's The Blue Album. Released in 1996 after hit singles like "Buddy Holly," "Say It Ain't So," and "Undone (The Sweater Song)," made Weezer famous in a rock community taxed by the recent passing of Nirvana's Kurt Cobain, the expectations of Pinkerton couldn't possibly have been anything but overwhelming.
While The Blue Album is by no means a super-slick, glossily produced album, its anthemic qualities and pop sensibilities made it really, really hard to dislike. Then came Pinkerton, the more challenging, dirty little stepbrother that from an outsider's perspective, wanted to remain on the outside of whatever accolades Weezer had received on their first go around.
Opening with "Tired of Sex," frontman and principle songwriter Rivers Cuomo declares that he's exhausted with tail chasing and tapping, while kicking off an album which suggests that women are way too much for him to handle. This track's punky, pissed-off-at-a-good thing stiff-arm rousingly sets the tone for what's to come.
"Getchoo" kicks in next with its own ample level of snottiness as Cuomo takes on an aggressive pursuit of a woman he's seemingly failed  already. When he belts: "What I've done to them/You'll do to me," you can't help but feel that Cuomo's paranoia and fear of being hurt himself may bring his chase to a premature close.
On "No Other One," a portrait of a pair of bizarre souls struggling to stay together out of necessity more than feeling is inked, while "Why Bother" forecasts a disaster of a break up, yet the willingness to perhaps slightly stick a finger into the mousetrap first. Musically, both tracks pounce with springing force as Cuomo's vocal grit pushes itself to a new level.
"Across The Sea" then reveals itself as perhaps the best track on Pinkerton, as Cuomo yearns for an 18-year-old Japanese girl, pushing forth a creepy, yet endearing narrative of two people from vastly different worlds torn apart by circumstance. The chorus rages and pleads at the same time. Longing sucks and Weezer encapsulates that feeling perfectly here.
An optimistic turn is briefly taken as "The Good Life" gets going and acts as a pep talk for a dude that's been held back too long by less than desirable circumstances. "El Scorcho" then follows almost perfectly as a pep talk for a woman that seemingly needs further encouragement to take Cuomo by the hand.
Cuomo uses "Pink Triangle" to confess his marriage-worthy feeling for a woman that would rather be in the company of another. For years, when Cuomo sang "Pink triangle on her sleeve/Let me know the truth," I was convinced that he said "honestly," not "on her sleeve." His ridiculously clever annunciation that leads into a line that ends in "truth" gets me every time.
Closing up Pinkerton is "Falling For You" and "Butterfly," a pair of fearful love song gems that wrap up a 10-song package that is filled with romantic insecurities that in many ways turn the women in Cuomo's songs into Godzilla and he into a town of fleeing civilians.
With Pinkerton, Cuomo and company dial up perhaps the catchiest collection of sexually-frustrated, yet oddly hopeful rock albums that has only grown in popularity since its lukewarm reception.
If Pinkerton in 1996 was the nerd that couldn't get the cheerleader in high school, then Pinkerton in 2013 is the matured, better understood nerd that can now call the cheerleader his adoring wife.
This album is: Riff Respected