The Killers say "America is Retarded Musically"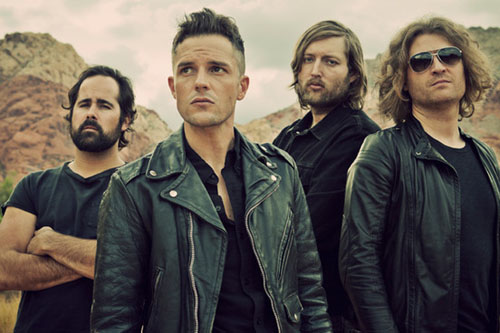 In an interview with British newspaper The Sun, The Killers fired a couple of explosive shots at its homeland of America by deeming it "retarded musically." By the way, this is coming from the same band that performed on American music talent competition, The Voice, back in December 2012. One could argue that such a show has a hand in why America could be classified as "retarded musically." I'm just saying.
The comments in question leaped into play when Killers drummer Ronnie Vannucci Jr. touched on how the band appreciated resonating right away with music fans in the UK following the release of their 2004 debut, Hot Fuss.
"Breaking in the UK first was great because America is retarded musically. And you can fucking quote me on that," says Vannucci, throwing down the gauntlet. "It's upside down. There's so much great music that doesn't get the attention. There's a lot of bullshit on US radio."
Not leaving his bandmate solely on the hook for such an opinion, frontman Brandon Flowers followed with a similar perspective.
"I start to wonder, what do adults listen to? Do they listen to what's being played on the radio? You should listen to something that's for you…not about giving your virginity to your boyfriend on Saturday night," offered Flowers. "It is retarded. Every song is that song. And if 40-year-olds are listening to that rubbish, they're going to raise kids on it. It's not even music."
…And bang goes the dynamite!
Flowers went on to share his frustration for how the masses focused on the aesthetic of The Killers, more than the music, upon the release of 2006's greatly executed Sam's Town album.
"We were so proud of that record. We still are," said Flowers. "We put a lot into that record and so it was weird that, all of a sudden, people only talked about my moustache. I was thinking: 'We just gave you songs like "Read My Mind" and "When You Were Young" and you're focusing on hair on my face. These are great songs.'"
The Killers will release Direct Hits, a 15-track compilation that features two news songs ("Shot at the Night" and "Just Another Girl"), as well as a dozen of the Las Vegas quartet's biggest songs on November 11.
Let's see how American music fans react to this album.