The Friday 5: Five Important Questions with The Flatliners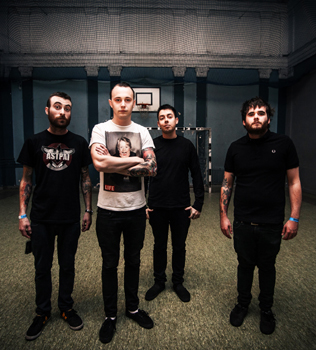 Later this month, amped-up punkers The Flatliners will go very South for a five show mini-tour of Mexico, before heading to America's West Coast for a series of dates with Propagandhi. Ahead of these jaunt's Riffyou.com caught up with band frontman Chris Cresswell for five really important questions.
What is your favourite place to play a guitar?
"On stage!"
What is your favourite pre-show meal?
"This is a dorky answer, but a meal that's at least three hours before a show, otherwise I'll just burp and fart and not sing properly on stage. Oh man, [that's happened] too many times."
What album pulls you out of a bad mood?
"The answer to this question changes all of the time. But right now, the newest Living with Lions 7" called Some of my Friends Appear Dead to Me. It's a wicked, wicked, 7" and the songs put me in a great mood. They're an awesome pop-punk band out of Vancouver – and pretty resilient. They've been through two different frontmen, but now it's just the core unit of the band: two guitars, bass, and drums. The guitarist Chase [Brenneman] has written most of the songs and now he's finally singing the songs that he'd been writing all of these years."
What band inspires you the most?
"The Clash. Aside from how amazing their music is and how easily they transcended genres, they were always outspoken on so many political issues and wanting to selling a triple-LP (Sandinista!) for the price of a single LP. They knew that music wasn't about ripping people off – it was about allowing people to reach for the music."
Who is your biggest fan?
"Our biggest fan is Mat Hollington and he lives in Edmonton, AB. He's a cool dude and always comes to our shows when we play Alberta. I think he has every release we have put out on vinyl – 7" or 12". He might have gone so far as to buy original artwork from artists who have done cover artwork for us. He's a super fan and cool. Last time we saw him, he was sporting a pretty Paul Blart-ish mustache that looked pretty good."
In case you missed it, check out our full interview with The Flatliners, as we discuss the band's 2013 release Dead Language and how they changed their approach when recording it.