GNR Helicopter Ride Gets Police Officers Chopped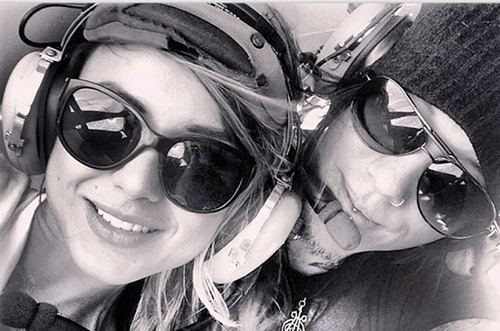 A pair of Las Vegas police officers have had their lives ruined thanks to a member of Guns N' Roses. Surprisingly, Axl Rose had nothing to do with it.
On August 7 of last year, Capt. David O'Leary and Officer Ray Horsley facilitated a helicopter tour of Sin City for GNR guitarist DJ Ashba and then-girlfriend Nathalia Henao. The trip, which took place within a department chopper piloted by Horsley, was part of Ashba's elaborate marriage proposal plan.
Shortly after landing, Henao said "yes," and Ashba took to Instagram, posting a photo of he and the bride-to-be in the helicopter, thanking the Las Vegas police department for the private ride (smart move, not!). The force soon got wind of the situation and launched an internal investigation, which has resulted in the stiff disciplining of O'Leary and Horsley.
Rather than take a demotion to the position of Lieutenant over the incident, O'Leary has retired from the force, while Horsley is being removed Air Support Detail, effective January 11. As a result, he will no longer be permitted to fly for the department.
In a prepared statement, the department stated:"A fly along and a patrol ride along are typically done for the purpose of exposing members of the community to the duties of law enforcement. A fly along would begin and terminate at Air Support and would not include any off site landings as occurred in this case."
This is perhaps the worst thing GNR has done since Chinese Democracy. Never mind – nothing can be that bad.