Q&A: The Flatliners Go Live Off the Floor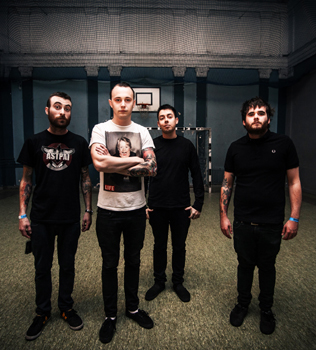 Four albums and 10 years into their history, Toronto, ON's, The Flatliners have gained a healthy following through their willingness to throw down their full-fury punk rock aesthetic on stages throughout many lands.
With their live element a true redeeming quality for the band – Chris Cresswell (vocals, guitar), Scott Brigham (guitar, vocals), Jon Darbey (bass, vocals), and Paul Ramirez (drums) – it made perfect sense for the guys to record what became their latest album, 2013's Dead Language, live off the floor as opposed to the sometimes restrictive confines of a stuffy studio.
The end result is an aggressive, yet melodic batch of tracks designed to translate perfectly before enthusiastic onlookers. Riffyou.com recently spent some time with Cresswell to discuss how it all came together, as well as the Mexican adventure that The Flatliners will partake in this coming January.
Tequila merchants take note: you may soon be busy.
RY: You had more than a three year gap between albums. Was that by design, or just how it turned out?
Chris: "There was a lot reasons that made it add up to that. We've been so busy on the road for the last chunk of time since Cavalcade (2010) came out…that's definitely the busiest we've ever been. We don't fair well with writing cohesively on the road. We'll come up with bits and pieces that add up to the bigger picture later on, but we really need the time at home. We're usually off-tour from January to March and since no one wants to go outside then anyways, we utilize our time at home to just focus on things – it's a big puzzle that we put together. It is equal parts fun and weird and overwhelming, because we take so long to put these ideas together." [Laughs]
RY: So you recorded this album live off the floor. What do you gain from that, versus a rigid studio process?
Chris: "I don't know what you gain, but you actually hold onto to that actual human element instead of making [the music] sound robotic. I think we're all real proud with how our albums from the past turned out, but they've certainly been pretty rigid to a click track and layering instrument, upon instrument, upon instrument. Then, you play the songs live and they feel way different…and better. We started the recording process by accident this time. We didn't think we were going in [to the studio] to record an album – we were just going to get some ideas down. Then we recorded 12 songs live off the floor and sat on them for a while…because we were working on more songs. We wound up listening to our ideas and enjoyed how they turned out…we started to think that we were going to play these songs live more than we'd listen to the album, so we might as well [record] them this way."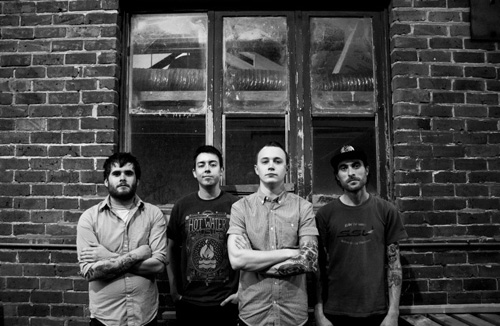 RY: Do you find that the style of music that you guys do really gets hurt by overthinking things in the studio?
Chris: "It all depends on the band. For some it works really, really well. The umbrella that our musical style is a part of is pretty vast. We're just so comfortable being a live band – that's how we spend the majority of our time. We were psyched to avoid what we did in the past. Technology advances so quickly and exponentially. People are going to try and find new ways to use technology to benefit them and sometimes it'll act as a deterrent."
RY: The Flatliners have done so much touring outside of Canada. What kind of impact does that have on the band?
Chris: "It's great to have the opportunity to go to all of these faraway places. It's more fun than sitting around and hoping that you sell records – that doesn't happen very often anymore. For our kind of music, you have to get out and show people your face and let people know that you're alive."
RY: Now, you guys are heading to Mexico in January. What the hell can you anticipate for that trip?
Chris: "I have no idea, man [laughs]. I know we're all excited! We've been hearing from people forever about coming to Mexico – we get to meet our fan base down there, so that'll be great. I anticipate it being pretty rowdy."
RY: Mexico could be considered similar to Las Vegas in the sense that you can likely get away with anything there. Is it possible for a rock band to not get into some form of trouble over there?
Chris: "Um, I don't know. I'll be able to tell you in January." [Laughs]
RY: Are you fans of tequila?
Chris: "I think we'll be bigger fans after that tour. When we went to Russia a few years ago, none of us were ever big vodka guys. But every meal we had, our buddy who brought us there would slam a bottle of vodka down on the table and you'd drink it, so it becomes something you enjoy after [the time you're there]. I'm sure it'll be the same thing with tequila in Mexico." [Laughs]
­The Flatliners play The Opera House in Toronto tonight, followed by a pair of Quebec gigs on December 21 at Underworld in Montreal and December 22 at Salle Multi in Quebec City.
-Adam Grant