The Friday 5: Five Important Questions with Less Than Jake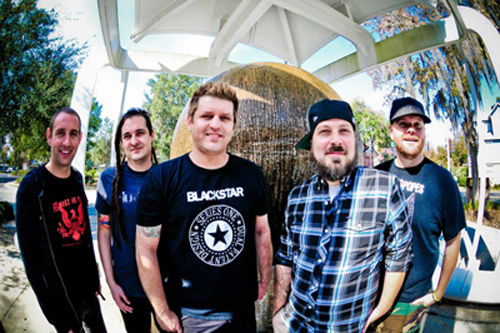 It's been nearly 20 years since Gainesville, FLA's, Less Than Jake began getting the kids to jump, dance and skank to their high-energy blend of ska and punk. The band has yet to slow down, releasing their latest album, See The Light, last month through Fat Wreck Chords. It is tremendously fun and capable of spurring you on throughout whichever hassles you may face each day.
From the chilly environment in which the Riffyou.com office is located, we caught up with Less Than Jake frontman, Chris DeMakes, for five really important questions.
What is your favourite place to play a guitar?
"I'm going to have to say on stage. Not in the washroom."
What is the best pre-show meal?
"Probably a Molson, because it has more alcohol than American beer." [Laughs]
Which album pulls you out of a bad mood?
"I'm going to go with a Canadian band here: The Doughboys' Happy Accidents."
Which band inspires you the most?
"A band from England called Snuff. They're remarkable – their songs, their melodies and their lyrics are just amazing. It's a crime against humanity that more people haven't heard of that band. Check them out. They've been around since the late '80s; they still put music out; they're fast pop punk rock with, like I said, great melodies and great lyrics."
Who is your biggest fan?
"I don't know this guy's name, but he came to a show recently and his whole leg had every bit of Less Than Jake artwork [tattooed] down it. Then, he had us sign his leg and the next time we saw him he came back with our signatures tattooed to his fucking leg [laughs]. That's insane."
Stay tuned next week for a full Riffyou.com interview with Less Than Jake.
And hey! Riffyou.com is on Facebook! If you enjoy what we do, please like our page to stay up to speed with us.