Interview: Buckshot Bebee and The Secret Boyfriends Get Fashionable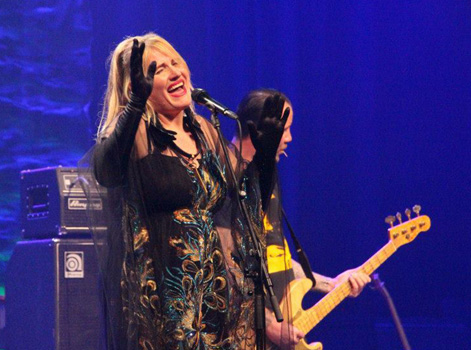 Lynn "Buckshot" Bebee is a rock n' roll veteran. Having sung her guts out for more than two decades as a member of the under-rated yet prominent Hamilton, ON, music community, there was a time not too long ago that her focus had to shift.
For the better chunk of the 2000s, Bebee was the focal point of rock act Buckshot Bebee and The Poisoned Aeros. Theatrical by nature, it wasn't a rare thing to catch this band putting on costume-draped, mysterious performances before curious crowds. However, beneath the make-up and wardrobe, was a solid musical entity that managed to run on until about 2008 when Bebee realized it was time to put this band away.
"We had some really good shows and on one of our last tours we went to New York and ended up playing CBGB's," recalls Bebee. "It was during that time that we knew we were coming to an end. When we got home, we decided to re-figure the band and change things up a bit. To be honest with you, it was like flogging a dead horse. We were just dragging the band through the mud at that point."
Near the time that the Aeros closed out, Bebee had shifted her focus to fashion and became the co-owner of Hamilton fashion shop, Blackbird Studios. After eons spent behind a microphone, Bebee had a new creative endeavour driving her.
"I decided to work art in a whole different direction," explains Bebee. "I've always had an interest in costume and stage. I was just really lucky because I hooked up with Kerry Wade [through the Hamilton music scene], who was already an established designer – she knew what she was doing and gave me the tools I needed to become a designer. Today, I work side-by-side with her and she shares all of her secrets with me…and that doesn't happen to everybody, so I'm grateful for that. Fashion then became my total interest and music got shoved aside."
However, like anyone with a love of music running through their veins, Bebee began building songs while at home. She'd soon take these bedroom creations to guitarist and producer, Andrew Aldridge, who shared in some of Bebee's primary musical influences: Queen and Mott the Hoople.
Eventually, he'd partner with Bebee to help further develop her tracks and add some further rock n' roll flare to them. As the process began to move forward, The Secret Boyfriends, were tracked down and inserted into the mix. They are: Greg Brisco (keyboards), Gene Champagne (drums), Bob Egan (pedal steel), and Paul Cameron (bass). Of course, Aldridge would remain as the group's guitarist.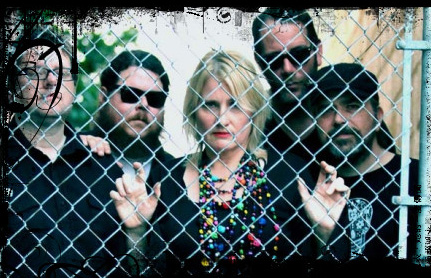 "Every single player in this band has done it before," says Bebee, whose experienced band members have played with the likes of Blue Rodeo, The Killjoys and Sarah Slean. "There isn't that urgency to go out with vengeance – we organically go forward: the next show that comes up; the next thing that happens; the next song that's written…there's not this need to go, go, go. Everyone in the band is on that page."
Through this organic process, Buckshot Bebee and The Secret Boyfriends have put forth their debut album, 2013's Merchants of Youth. On it, Bebee's voice soars amidst a high-quality band that's equally able to walk the line of glam and good ole fashioned rock n' roll. Three years in the making, this album has already been a rewarding experience for the band, as this year it led to a Hamilton Music Awards nomination for Best Adult Alternative Album, as well as a Best Female Artist award for Bebee.
"It inspires and rewards," says Bebee of receiving this type of recognition. "It's nice to know that you can change up a little bit and come back and still be accepted. You think you're doing the right thing, but it's nice when [the songs] are validated and people say, 'you're right, you do have a great record,' and you can say, 'I know, I do! Thank you!'" [Laughs]
-Adam Grant