Getting to Know: Celtic Punks, Irish Moutarde

In today's Getting to Know, we meet Irish Moutarde, a band that's been called 'the Irish NOFX' and are brave enough to live on top of each other in motel rooms. If you are in an up and coming band that would like to partake in a Getting to Know feature, contact editor@riffyou.com to receive the questionnaire and instructions. Thanks!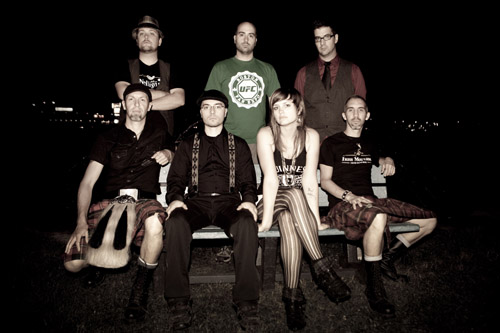 Band Name: Irish Moutarde
Band Members: Mathieu Audet (rhythm guitar, vocals), Jérôme Bélanger (lead guitar), Christian Haerinck (bagpipes, Jew's harp), Dominic Haerinck (banjo, acoustic guitar, tin whistle, cittern, harp, vocals), Sébastien Malenfant (drums, vocals), Andrée-Anne McHalley (vocals, accordion, piano), and Fred Vandal (bass guitar,vocals).
Years Active: 5
City of Origin: Quebec City, QC.
Who are you and what do you do?
"We are Irish Moutarde, and we rock your Irish ass!"
In 100 words or less, tell us how your band has gotten to this point.
"We started as a tribute band to Dropkick Murphys and Flogging Molly, but now we write our own songs and get to play a lot of shows with many great bands. We even got to play with the Dropkick Murphys! We also have the privilege to have fans all around the world, especially in Brazil. Cheers guys!"
What is your latest release and how would you best describe it to someone who hasn't heard your band?
"Our debut album is called Raise 'Em All, and it goes like this: electric guitars, bagpipe and whisky…Celtic rock as it should be."
When making an album, which aspect of the process do you put the most time into and why?
"I guess we put equal time into all aspects. Usually, when we write songs, someone in the band suggests a song with a recorded demo. Then we rehearse the song a lot and test it live. When comes the time to record the album, we fully commit to it. Our album Raise 'Em All took six months of recording and production."
What is the best part about your band and why?
"We all do this for fun, not for a living, so we do not feel any pressure about anything. We also have the luxury to say 'no' to some opportunities that we judge not to be the best for the band…opportunities that we would have said 'yes' to if we wanted to make a living out of it. But this doesn't mean that we do not put 100% of our energy in what we do."
What makes your band unique from the rest?
"We have two left-handed band members! Two! It's a curse!"
How does your band survive the challenges of touring/gigging?
"We hired a soundman! Frank! So now we sleep eight in a motel room instead of seven. Living in such an enclosed environment with so many living organisms developing their own greenhouse gases, gives you a natural resistance to anything physical and psychological that life might throw at you."
Would you rather be critically-acclaimed; rich and famous; or an under-the-radar band with a dedicated fan base?
"Everybody wants to be critically-acclaimed, rich and famous. Come on."
If you'd have to compare your band to another one out there, living or dead, who would it be and why?
"A few times we have been called 'the Irish NOFX,' so I guess this is a good start. Another reference is the Dropkick Murphys, of course."
Which band/musician would you like to share many drinks with? What would you talk about?
"I would say Mikael Akerfeldt, because I admire him and because he is very funny."
Please be sure to follow us on Twitter @riffyou and at Facebook.com/riffyou.