Getting to Know: Florida Thrash act, Illuminate Me

In today's Getting to Know, we meet Illuminate Me, a Florida-based thrash collective that stay true to who they are and write songs about the bullshit in their lives. If you are in an up and coming band that would like to partake in a Getting to Know feature, contact editor@riffyou.com to receive the questionnaire and instructions. Thanks!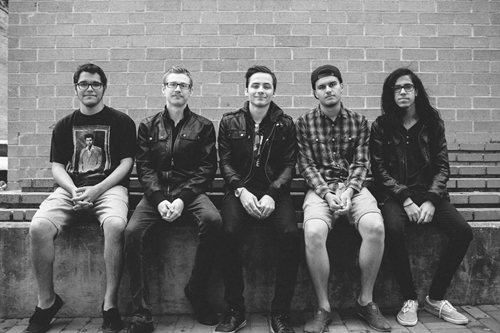 Band Name: Illuminate Me
Band Members: Chris Murray (vocals), Chris Jacobsen (guitar, non-touring), Anthony Burke (guitar), Sebastian Quintero (guitar), Kevin Hatton (bass), and Corey Jacobsen (drums).
Years Active: 1.5
City of Origin: Fort Lauderdale, FLA
Who are you and what do you do?
My name is Christopher Murray, and I am the singer of Illuminate Me.
In 100 words or less, tell us how your band has gotten to this point.
"Hard work, a lot of it. We were constantly busting our ass to make this band becomeS a real career for all of us. I think it definitely is starting to."
What is your latest release and how would you best describe it to someone who hasn't heard your band?
"Our new release is I Have Become A Corpse, and its available through Tragic Hero Records. I would describe it as 'no gimmicks, just aggression.' It's real to us. We take the bullshit in our lives and put it into songs. We don't try and make up stories or be people we aren't just so people will like us. To each their own, of course, but to us being real about situations and who we are is everything. It's an angry and noisy album. We love it and we hope someone out there will too."
When making an album, which aspect of the process do you put the most time into and why?
"I think 75% song writing, 10% production, and and 5% rehearsing. We rarely practice and just get on stage and do what we do…it's very instinctive, as primitive as it is intelligent. I think that's one thing that we love about what we do."
What is the best part about your band and why?
"To be honest, I think our live performance really takes the cake. We never really plan on anything at our shows, but we always end up doing the stupidest shit on stage…and it's awesome. I think if you truly want to see what we're all about, you need to come to our show."
What makes your band unique from the rest?
"We're not an insanely original band, but I do believe our mentality and sound does set us apart from a lot of bands nowadays. We were never concerned about playing what was popular, and we all love thrashy, noisy music. We never really fit on show bills, but I love that about us."
How does your band survive the challenges of touring/gigging?
"We work and save a lot. It's not cheap going on the road and living in a van for weeks at a time. We do everything ourselves and work for everything ourselves, so when something bad happens like a flat tire (or two like the last tour we were on), we work together as a team to make sure we get to the venue on time and that nothing stops us."
Would you rather be critically-acclaimed; rich and famous; or an under-the-radar band with a dedicated fan base?
"I'll be happy even if only a couple people give a shit about what we do. I feel like if you truly are a band in any of those categories, you just are. You shouldn't try to fit into any pre-determined box."
If you'd have to compare your band to another one out there, living or dead, who would it be and why?
"Probably Norma Jean or Underoath. We draw influence from both of those bands and have listened to them growing up."
Which band/musician would you like to share many drinks with? What would you talk about?
"Keith Buckley from Every Time I Die. Probably just the music scene in general, and to see if he has any tips for us in the long run, or any insight about being someone who's been in the game for a while. I'm sure he's a great guy and a very wise dude."
Please be sure to follow us on Twitter @riffyou and at Facebook.com/riffyou.