Getting to Know: French Punk Trio, The Shapers

In today's Getting to Know, we meet The Shapers, a three-piece punk group from France. Apart from their love for touring, they'd love to sit down with Blink-182 to talk some UFOs. If you are in an up and coming band that would like to partake in a Getting to Know feature, contact editor@riffyou.com to receive the questionnaire and instructions. Thanks!
Band Name: The Shapers
Band Members: Anthony Cauvin (guitar, vocals), Raphaël Bouissière (bass, back vocals), Benoit Holin (Drums)
Years Active:  4
City of Origin: Toulouse, France
Who are you and what do you do?
"My name is Anthony, I sing and play guitar in The Shapers."
In 100 words or less, tell us how your band has gotten to this point.
"We are working hard, accomplishing as much as we can. Until now, we have always auto-produced our records. As the rock scene in France is pretty small, we have organized ourselves two tours in Asia. In 2013, we won a music competition, being chosen as the 'best up-and-coming French band,' and organized our first North American tour, right after that, and had the chance to share the stage with punk rock legends NOFX. So we can say our band has gotten to this point thanks to our motivation.  We put all we can into our band."
What is your latest release and how would you best describe it to someone who hasn't heard your band?
"Our latest release is our first LP Everybody Needs to Have a Dream (2012). Our sound is a mix of Californian and British rock influences, with us adding a French touch. This record may remind you of Blink-182 or Green Day, combined with The Subways. We are now focusing on writing new material and are planning to release an EP this year."
When making an album, which aspect of the process do you put the most time into and why?
"We put the most time into song writing and rehearsing, because we think these aspects are the base to any good song. Production can always make a song sound better, but it won't be enough if the song is not catchy. Also, rehearsing is very important for us, because the more we practice, the more ideas we have to improve the songs."
What is the best part about your band and why?
"Definitely our live shows. As we are very good friends, we always have fun when we are together so we are always performing to the max. We guarantee fun and laid back shows, where energy and enthusiasm is contagious!"
What makes your band unique from the rest?
"Our personal stories and influences…when combined together. Plus, we draw our inspiration from a lot of four-piece bands, but as we only have three members, we are building our own style."
How does your band survive the challenges of touring/gigging?
"Being out on the road touring and meeting new people is what we like best about being in a band. I think it is one of the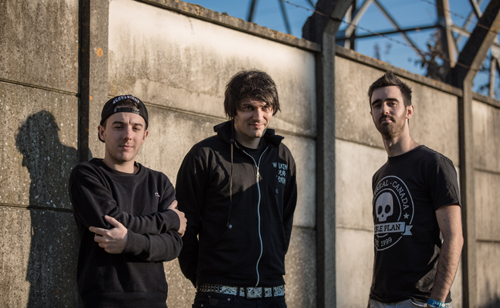 most rewarding parts, as we love discovering new cultures and influences. It's easy to survive a challenge if you actually love it. Whenever we are in a bad situation, we think it's going be a fun story to tell!"
Would you rather be critically-acclaimed; rich and famous; or an under-the-radar band with a dedicated fan base?
"We'd love to tour the world as much as possible, because it is what we are enjoying the most. So the best option for us would be the one that allows us to tour in front of crazy crowds, whether we're rich or not. We love connecting with fans and other bands, so don't hesitate to interact with us via social media websites, or catch us at a show for a good time!"
If you'd have to compare your band to another one out there, living or dead, who would it be and why?
"It would be Chunk! No Captain Chunk! because they are French dudes playing American style music. They show us it is actually possible for a French band to make it in the music industry."
Which band/musician would you like to share many drinks with? What would you talk about?
"We would all love to share some drinks with Blink-182. They represent everything we like in punk rock: fun and craziness. We will definitely talk about Boomer and UFOs!"
Please be sure to follow us on Twitter @riffyou and at Facebook.com/riffyou.